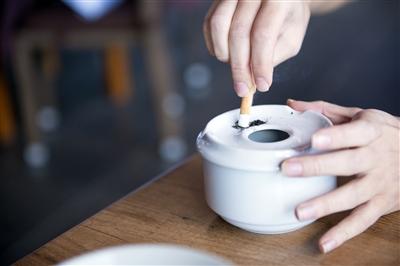 Breaking a bad habit is difficult, no matter what it is. But when it comes to smoking, you're putting your health at risk with every additional minute, hour, and day that you delay putting out your last cigarette.
Take a look at what happens to your body—immediately and long-term—when you quit smoking, according to the American Heart Association:
In the first 12 hours: The carbon monoxide levels in your body regulate, and your blood pressure and heart rate will recover after a spike from nicotine use.
In the first three months: Your lung function and circulation will gradually begin to improve.
In the first nine months: You'll start to notice the effects of this improved lung function and circulation, including an easier time breathing and less coughing and shortness of breath. At this point, you'll also have a reduced risk for lung infections like bronchitis and pneumonia.
In the first year: Your risk for heart disease—a leading killer of men and women—drops by 50 percent.
In the first five years: Your risk of certain cancers (mouth, throat, esophageal and bladder) drops by 50 percent. Your risk for cervical cancer and stroke returns to normal risk.
In the first 10 years: You are half as likely to die from lung cancer.
In the first 15 years: Your risk for heart disease is the same as that of someone who does not smoke.
Find resources to help you quit
Of course, as most people who have smoked can agree, quitting isn't easy. When smoking has been a part of your life—whether it's for a short time or many years—it's difficult to turn your back on the habit altogether, even when the benefits are so clear.
"Quitting isn't easy. Thankfully, there are many different options for help with tobacco cessation. There are options like nicotine replacement therapy, group counseling, and the PA Quit Line (1.800.QUIT.NOW), etc. You just have to find the one that works the best for you," says Kara Chivalette, MPH, CTTS-M, a wellness education specialist at Bryn Mawr Hospital, part of Main Line Health.
Thanks to the emergence of smartphone apps and new technology, you can even hold yourself accountable with daily reminders of your commitment to quitting. Websites like smokefree.gov offer daily text messages to encourage you during your journey to quit.
In your journey to quit, remember that you are not alone. Main Line Health offers a series of free, six-week tobacco cessation classes where you can meet other participants and facilitators who can provide support and advice.
Main Line Health serves patients at hospitals and health centers throughout the western suburbs of Philadelphia. To schedule an appointment with a specialist at Main Line Health, call 1.866.CALL.MLH (225.5654) or use our secure online appointment request form.