Marie Webster, PhD, a researcher at Lankenau Institute for Medical Research (LIMR), part of Main Line Health, brings an energetic approach to treating melanoma. In her work, she uses the entirety of a wide-ranging background, which includes receiving her undergraduate degree in chemistry and PhD in pharmacology before focusing on cancer as a postdoctorate fellow.
"My learning journey has led me to where I am now," she says. "Chemistry involves making drugs, pharmacology is the implementation of treatment, and studying cancer is the application of that treatment. I wanted to understand the whole process of designing a drug and how you get it to its target."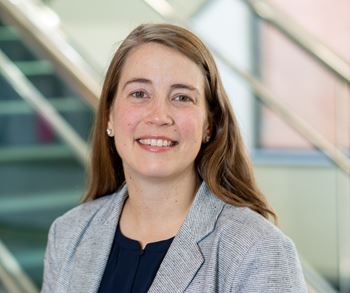 Much of the journey occurred during graduate studies at Johns Hopkins University. She worked with a class of drugs called bisphosphonates, which prevent the loss of bone density and, because they bind to calcium, are used to treat such diseases as osteoporosis.
However, the goal of her work was to mask the drugs' negative electrical charge so instead of binding to calcium they would penetrate tumor cells and create an anticancer delivery system. It turned out the cancer the drug best attacked was melanoma. For her postdoctoral work, Dr. Webster worked at the Wistar Institute, where they studied the link between melanoma metastasis—spreading of the cancer cells from their original site—and therapy resistance.
The majority of human cancers involve mutations that make this protein inactive.
Evolution of melanoma research
Dr. Webster's research now focuses primarily on understanding how cancer cells survive multiple types of stress—such as DNA damage, targeted therapy and aging—so better therapeutic strategies can be developed. That means focusing on metastasis.
"You have higher success if you catch the cancer early on," Dr. Webster says. "Therapy resistance occurs in later stages—that's the link between metastasis and therapy resistance. We look at how different stresses affect metastatic cells. The next step would be to find ways to target the key pathways as well as screen for it."
The microenvironment around the tumor—think of the skin of an older person vs. a younger one—can correlate to damaged DNA. She is studying how p53, a gene that typically acts as a gatekeeper for cell growth to prevent cancer, is promoting survival and disease progression in melanoma. Preliminary studies suggest that blocking p53 activity in metastatic melanoma promotes response to therapies currently used in the clinic.
But other stresses lead to melanoma too, particularly ultraviolet rays from the sun. That is why, Webster says, you should use sunscreen if you're in the sun. And have frequent skin checks.
LIMR is a nonprofit, biomedical research institute located on the campus of Lankenau Medical Center in Wynnewood, Pennsylvania, just outside of Philadelphia. Find out more about clinical research at LIMR.