Spending time with loved ones, focusing on your hobbies, learning more about the world—there are many different things to look forward to as you age. But getting older can also include changes in your physical ability that may be less exciting.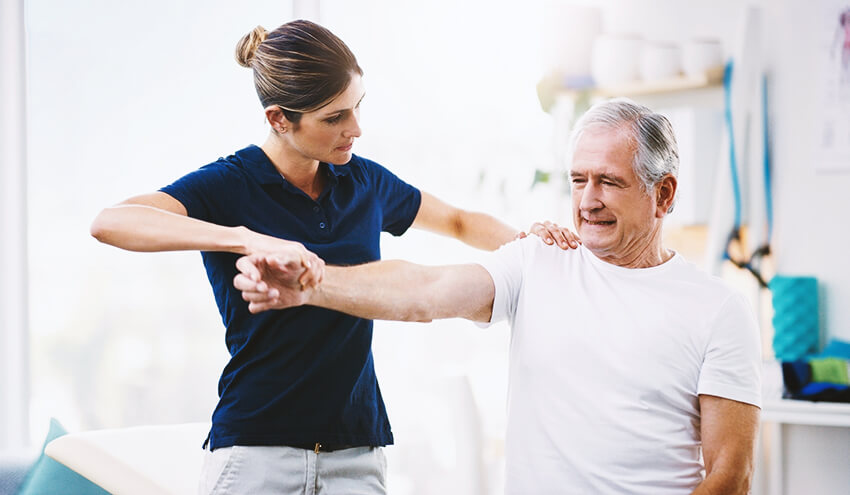 As you age, it's important to pay attention to your health and body—and the things that it may be trying to tell you. Getting older doesn't have to mean living in pain or struggling with daily tasks—physical therapy can help.
At Main Line Health, you have options for inpatient physical therapy and outpatient physical therapy designed to help you meet your health goals.
Whether you want to be able to do the things you love or simply live in less pain, here are 6 ways physical therapy can support you as you age.
1. Recover from—and prevent—falls and injuries
When people think about physical therapy (PT), they often think about physical therapy after an injury. While PT can help you after an injury, it can also help you prevent an injury as well.
Physical therapy can help you prevent future falls or injuries by focusing on your:
Balance
Walking ability
Strength
Endurance
Home safety
Each year, 1 out of every 4 older adults in the US will experience a fall—which accounts for approximately 36 million falls each year for older adults. These numbers are high, but they don't have to be. By focusing on these different areas of ability and safety with a physical therapist, you can lower your risk of falling and injury.
2. Relearn physical abilities after a stroke
Each day, your body helps you do many different kinds of tasks and movements that we often take for granted. But after having a stroke, you may struggle with some of those day-to-day tasks.
While these changes in your ability can be frustrating or scary, physical therapy helps you recover and regain some of those abilities.
Your physical therapist can help you relearn how to do activities and movements like:
Walking
Sitting
Standing
Lying down
Switching between different types of movement
3. Retain your independence
Almost 80% of adults 50 years and older want to stay and age in their own homes for the long term. Staying in your home can help you feel comfortable and connected to your community—and your health plays a key role in your ability to do so.
In physical therapy, your physical therapist will learn about your health goals and create a plan to help you meet them.
Maybe you want to work on walking on uneven surfaces so you can get the paper each day. Or maybe you want to overcome your fear after a previous fall. Maybe your goal is to build strength in your arms because you love cooking for yourself. All of these goals are important and can play a part in you living in your home long term.
No matter what your goals are, your physical therapist can help you with different exercises to prioritize your mobility, strength, and confidence.
4. Speed up recovery after joint replacement
After a joint replacement surgery (like a hip or total knee replacement), the last thing on your mind might be moving around or exercising. But in reality, physical therapy is just as important as the surgery itself.
"After your surgery, physical therapy exercises should start even before you are discharged from the hospital," says Main Line Health Physical Therapist, Robyn Edwards-Lihota, DPT. "Your orthopaedic surgeon or physical therapist will provide exercises you can do in the recovery room that will help you move your knee or hip."
For a total knee or hip replacement, physical therapy and at-home exercises will help build your strength and mobility, while also boosting blood circulation throughout your legs—which help prevent blood clots.
5. Get support for a range of conditions
Physical therapy isn't one-size-fits-all, and no two treatment plans are exactly the same. PT can be beneficial for a wide range of health concerns and goals.
For example, some things you can go to PT for include:
Back pain
Chronic Obstructive Pulmonary Disease (COPD)
Chronic pain
Incontinence
Vertigo
The kinds of exercises you actually do at physical therapy will be tailored to your ability, any health conditions you may have, and your personal health goals. If you are experiencing pain or loss of ability, talk to your Main Line Health provider about how PT can help.
6. Put your loved ones' minds at ease
As you age, your loved ones may express concerns about your health or abilities. This is a normal part of the aging process, and it shows that your loved ones care about your health and safety. One way to help ease their worries is with physical therapy.
Physical therapy can help you build strength, mobility, and flexibility—all of which can help you and your loved ones feel confident in your ability. By taking time to take care of your body, your loved ones can spend less time worrying about a potential fall or injury.
Together with Main Line Health, we can help you reach your goals and feel good about your abilities as you age.
For inpatient PT and rehabilitation, call 484.596.6000.
For outpatient PT and rehabilitation, call 484.596.5000.