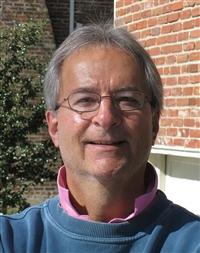 This month, Sal Panasci will be one of several artists featured in Bryn Mawr Rehab Hospital's annual Exhibition. His five paintings will be among hundreds of other works of art produced by artists with disabilities from across the country and across the world. Panasci's work has been part of the exhibition since 1996, making him one of the program's longest-tenured artists.
Yet, Panasci admits, it wasn't until then that he had even considered giving art a chance.
"I went to the Philadelphia College of Art, but I had never studied fine art. I studied graphic design and marketing. I never really had an interest in art for art's sake," says Panasci.
That changed one day in 1995, when Panasci was a passenger in a taxi cab accident.
Although he was taken to a trauma center immediately following the accident and treated, he was left with lingering symptoms, including difficulty paying attention and focusing, a foggy memory, fatigue, frequent headaches, getting lost in places that were familiar to him, and a change in his mood and behavior. Panasci also lost his abstract thinking ability, an important factor in his career in advertising.
Though his symptoms initially suggested a concussion, Panasci was diagnosed with a traumatic brain injury. He began outpatient therapy four days a week for 14 months at Bryn Mawr Rehab, where he worked with several different therapies to recover—including speech, occupational, horticultural, cognitive, and vestibular therapy, as well as some reading comprehension techniques and psychology consultations.
"While I was there, my therapy team suggested I try and do something along the way of art. I decided to give it a try and see what I could do," says Panasci.
Panasci set a goal to finish one painting. Even he was surprised when he totaled the number of paintings he had finished by the end of his therapy: six. And each of them had been selected for the hospital's Art Ability Exhibition, only in its second year at the time.
"I thought, 'Hey, there must be something to this.' I've been painting ever since," says Panasci.
Panasci's talent has continued to grow. He paints in acrylic, pastels, and watercolors, and his styles vary from representational—still life paintings—to large, abstract paintings done in oil paint. His work has come a long way from its humble beginnings in the halls of Bryn Mawr Rehab, and has been featured in art galleries in cities like New York, Miami, Fort Lauderdale, Dallas, and Los Angeles.
Still, Panasci credits his love for art to his longtime involvement in Art Ability.
"Through my involvement in Art Ability, I developed a passion for fine art," he says.
In addition to a love for art, Panasci also credits Art Ability for helping him recover after his injury.
"The main thing about Art Ability is that I was almost broken in a thousand pieces from my accident and my traumatic brain injury. Art Ability put me back together and gave me a new identity. I lost who I was—I had to retire, I could no longer work. Art Ability really gave me an identity and made me realize that even though I wasn't the same person I was before my injury, I wasn't less of a person—I was just a different person," says Panasci.
"Mr. Panasci is not only an invaluable advocate for Art Ability he is also a talented and prolific artist whose work garners much attention," says Sherman Fleming, Art Ability curator at Bryn Mawr Rehab. "We are very fortunate to have several of his art works in our collection."
In addition to continuing to use his art to share his story of recovery, Panasci is also giving back to the hospital and the program who gave so much to him. Panasci and his wife, Linda, recently offered a donation to the program in the Panasci family name to ensure the program can continue to benefits artists like Panasci.
"My wife and I wanted to give back to Art Ability because I was helped so much by the program. We felt that, if we could enrich the lives of other disabled people the way mine has been enriched; it would be a very worthy cause. Art Ability has done wonders for me, and I want to play a part in ensuring it will continue to help others."