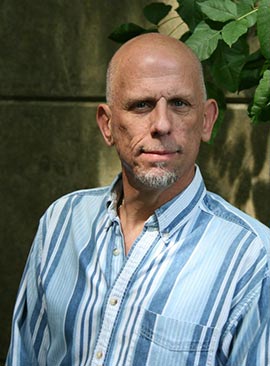 Richard Kerns is no stranger to Main Line Health. At 22, he landed his first job out of college with the security office at Paoli Hospital, and was quickly promoted to the Hospital's Chief of Security one year later. For a combined thirty years, he's served as a member of the security team, ensuring the safety of employees, visitors, and patients.
Never did Kerns think he'd become one of those patients.
"My entire adult life has been a combination of a healthy diet, daily exercise, and the idea that an upbeat, positive attitude can go a long way in preventing health issues," he says. "Of course, no matter how well you take care of your body, things happen."
And, in March, something happened. Struck with feelings of intense fatigue, shortness of breath, and chest discomfort, Kerns headed to the emergency department at Riddle Hospital. There, he was quickly diagnosed with pericardial effusion, a condition marked by massive fluid build-up in the pericardium, a thin sac that covers the outer area of the heart.
"It was basically a situation of fluid build-up threatening an otherwise healthy heart," recalls Kerns.
The Lankenau Heart Institute team at Riddle Hospital acted quickly to perform a pericardiocentesis, a procedure that uses a needle and catheter to drain the built-up fluid from around Kerns' heart. But, after an evening of recovery and observation, it continued accumulating. Kerns was transferred to Lankenau Medical Center for further care.
Though Kerns had been transferred from a room at Riddle Hospital to a room at Lankenau Medical Center, he wasn't concerned about an interruption in his care. Thanks to Main Line Health's System wide cardiac services through Lankenau Heart Institute, he knew his transition would be seamless.
"One of the many benefits of Lankenau Heart Institute is that it ensures that every patient will receive coordinated access to advanced cardiac care, no matter where they enter the Main Line Health System," explains Dr. William Gray, MD, interventional cardiologist and System Chief of Cardiovascular Disease at Main Line Health and the Lankenau Heart Institute. "Our physicians across Main Line Health are working collaboratively to guarantee that patients like Mr. Kerns have access to the treatment they need—where and as they need it—without an interruption in care."
On March 24, Kerns arrived at Lankenau for what would turn out to be a 10-day stay in the hospital's Heart Pavilion. Lankenau Heart Institute interventional cardiologists Dr. Eric Gnall, DO, and Dr. Amid Khan, MD attempted to alleviate the fluid build-up in Kerns' pericardium with second and third pericardiocentesis procedures. But, when fluid continued re-accumulating, it became clear to the physicians that further treatment was necessary to save Kerns' life.
The next treatment for Kerns was a pericardial window surgery, performed by Lankenau Heart Institute cardiac surgeon Dr. Alon Aharon, MD. Although the window surgery is a minimally invasive one, it required a small incision in Kerns' pericardium.
Despite the idea of an incision, Kerns had faith in his care team.
"When you're hospitalized, you're caught up in the moment, but every physician I had sat down and explained what they were looking for, and what surgical procedure they were about to perform before it was performed," says Kerns.
And so, on March 28, Kerns felt well-prepared for his pericardial window surgery.
"Through a minimally invasive approach—making tiny incisions of about two to three centimeters—below the pericardium, we were able to mobilize the pericardial sac that contained the fluid and drain it effectively," explains Dr. Aharon. "It was difficult because the heart and the pericardium were very stuck together; it was not your typical pericardial window surgery."
Despite an atypical surgery, it was a successful one. Finally, Kerns had found relief from the shortness of breath and persistent symptoms that had been plaguing him since he first visited Riddle's emergency room. And—only four days after his surgery—he was able to return home.
As a longtime employee, Kerns had heard people applaud the work of Main Line Health's clinical teams. But as he reflected on the care he received in the days after he returned home, he remained moved and impressed by everyone who had made an impact on him during his 10-day stay.
"As a guy who worked 30 years in health care, it was a unique experience to have such great care during a life-threatening health scare," he says. "Every Main Line Health employee I met was friendly, helpful, and—most importantly—knowledgeable."
Now, feeling well and back to work as part of the Paoli team, Kerns is proud to say he's a 'dual citizen.'
"My career has always been focused on customer service and the patient experience. I've now experienced the other side of the fence. I may not be the usual picture of a cheerleader, but I am Main Line Health's biggest fan—both as an employer and health care provider."
With four hospitals and many community cardiology sites throughout the region, Lankenau Heart Institute's team of cardiologists, cardiovascular surgeons and sub-specialists seamlessly integrate prevention, diagnostics, treatment, rehabilitation and disease management into one uncompromising service. Visit our website to learn more about the Lankenau Heart Institute.