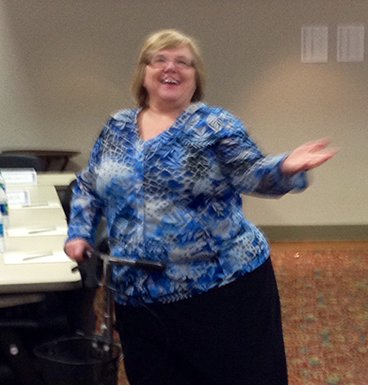 Julie Budzik is one of an estimated 27 million Americans with osteoarthritis. One of the most common forms of arthritis, osteoarthritis is a chronic condition that breaks down the cartilage surrounding joints and causes the bones to rub against each other. It first began affecting Julie in 2010, when she had her knee replaced. A year later, as she was still recovering from surgery, she began noticing pain in her right ankle. At the recommendation of her orthopaedic surgeon, she had an x-ray done.
"The x-ray showed some deterioration and a small tumor, which thankfully turned out to be nothing," says Budzik. "But even after they removed the tumor and cleaned up some of the deterioration, I was told it was still going to give me pain and that, eventually, I'd need a replacement."
Budzik began researching local surgeons who could perform ankle replacements, a much rarer procedure than traditional hip and knee replacements. After much research, she chose Rothman Institute of Orthopaedics and scheduled an appointment with orthopaedic surgeon David Pedowitz, MD, whose specialties included foot and ankle reconstruction, and who was based at the Rothman Institute at Bryn Mawr Hospital.
"Knowing that it was a rare procedure, I wanted someone who does this and does it often and well," she explains. "After all my research, I thought: Rothman. They've always been known for their expertise."
Budzik had ankle replacement surgery in early March 2014. Though the procedure won't prevent her from experiencing intermittent pain, it greatly improved her levels of pain and the symptoms of her osteoarthritis, an improvement she says wouldn't be possible without Dr. Pedowitz's expertise.
"From the very beginning, I liked his style. He was very open, answered all of my questions, and was very candid about his success in the past with surgeries like mine," she says. "I really could not have asked him to do anything differently or better. I would recommend Dr. Pedowitz in a heartbeat."
And of her care at Bryn Mawr? Although Budzik, a Downingtown native, had never been to the hospital before, she had only the best things to say about her care post-surgery.
"I was super pleased with the care that I received at Bryn Mawr, from my very first phone call to make the appointment to my recovery. Everyone was attentive and reassuring me, checking on me every half hour or so," she recalls. "Bryn Mawr has been known as a premier hospital for so long, and now I know why."