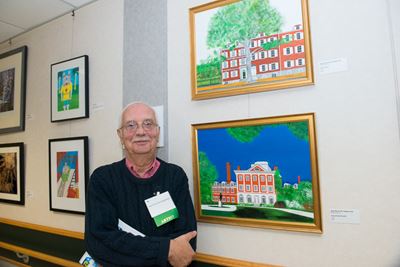 It's hard to believe there's something Jean-Pierre deChadarevian, MD, hasn't done.
Born in Beirut, Lebanon, the pediatric pathologist later moved to Canada to study. Just over 30 years ago, he relocated to Philadelphia, where he began his tenure at St. Christopher's Children's Hospital and Drexel University College of Medicine, where he served as a Professor of Pathology and Pediatrics. With what little free time he has, he and his wife are enthusiastic travelers, and he's the author of five medical murder mysteries, all penned under a pseudonym.
A busy and talented individual, Dr. deChadarevian was forced to slow down when, in 2012, he suffered a stroke and subsequent aphasia after undergoing cardiac surgery.
"I had to relearn everything," he recalls.
Road to Recovery
Most patients recovering from stroke are challenged to relearn one language. Fluent in French and English, Dr. deChadarevian was tasked with relearning two, all while trying to master the other motor skills that had been affected by his stroke.
Following a short stay at Bryn Mawr Rehabilitation Hospital, where he completed inpatient therapy, Dr. deChadarevian continued his recovery with weekly visits to Main Line Health's Outpatient Rehabilitation program in Wynnewood, just down the street from the home he shared with his wife and daughter. Unable to return to work, he found himself with extra time on his hands in between his appointments. His wife, noticing his extra down time, recommended he try painting.
"I told her I had never painted in my life," says Dr. deChadarevian. "I didn't know how to, I didn't even know how to start!"
Although he didn't know how or where to begin, Dr. deChadarevian didn't just try painting—he excelled at it. Over the next few months, he painted a series of his favorite landmarks in Philadelphia, improving his newly discovered talent with each piece. The benefits of painting extended far beyond giving him something to do with his free time; his therapist at outpatient rehab began to notice improvement in his therapy sessions, too.
"He was using his left brain and challenging himself by learning something new," says Dr. deChadarevian's speech pathologist Lynne Feuer. "We began to see the effects in his therapy; he kept getting better and better each time he came in."
Eager to share Dr. deChadarevian's progress, she suggested he enter his artwork into Art Ability, a year-long program that showcases artwork from artists with disabilities. It was the first time she had recommended a patient to Art Ability, but she agreed his talent couldn't be ignored.
In 2014, six of Dr. deChadarevian's pieces were accepted into the Art Ability showcase. An activity—one that he had only begun to fill his extra time—had quickly turned into a talent he never suspected he had.
"I enjoy doing it, I surprised myself," says Dr. deChadarevian.