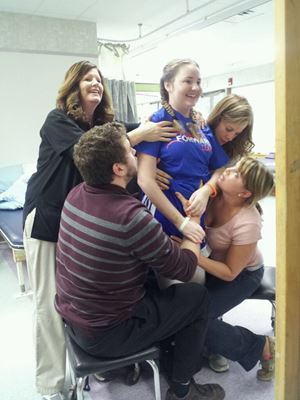 A 22-year-old senior in her final semester at Shippensburg University, Janelle Healy was on track to graduate and begin the next phase of her life teaching English. But while doing homework with a friend at the restaurant where she worked, her left hand started going numb.
"I thought it was just the way I was leaning," remembers Healy. "But three minutes later it was still numb and started to become painful. Then it began progressing up my arm."
After calling her parents, Healy's friend drove her to the emergency department at the local hospital. By the time they arrived, she could no longer move her left arm.
Things progressed quickly from there and, within a matter of hours, Healy was paralyzed from the neck down and she could only speak in syllables because her respiratory system was also affected.
After a middle-of-the-night MRI, Healy was diagnosed with a rare autoimmune disease called Transverse Myelitis, a neurological disorder caused by an inflammation of the spinal cord that disrupts communication between the spinal cord and brain.
Healy was immediately started on plasmapheresis, a process by which the liquid in the blood is separated from the cells in order to remove harmful antibodies that are attacking the body's immune system. After three and a half weeks in the hospital, Healy was deemed ready for rehab.
"We spoke with the liaison from Bryn Mawr Rehab Hospital who told us my dogs would be allowed to visit me," recalls Healy. "My parents toured the facility and felt it had everything I would need so I made the decision to go there."
Located in Malvern, Bryn Mawr Rehab is a 148-bed, fully accredited facility that offers patients individualized, intensive recovery programs and access to the latest treatments and technologies. Patients are cared for by a team of experts in rehabilitative medicine, nursing, and occupational, cognitive, physical and speech therapy.
Upon her arrival at Bryn Mawr Rehab, Healy had what she refers to as her "flipper" – meaning she could pick up her left elbow and wave it – but otherwise she had to relearn everything from sitting to walking to feeding herself.
"The support system the Bryn Mawr Rehab therapists offered was amazing," says Healy. "I didn't feel like a case study the way I did in the hospital. The therapists always took the time to talk to me. If I was having a bad day, they could tell. It made a world of difference to me and I was excited to go to therapy to see them."
One of the innovative forms of therapy Healy did two to three times a week at Bryn Mawr Rehab involved the Lokomat Pro, a robotic treadmill that helps patients learn to walk again. Offered at only a handful of medical centers in the nation, the Lokomat Pro combines robotic technology with virtual reality to keep patients motivated and working toward their goals.
"The Lokomat moved my legs for me," explains Healy. "Even though I wasn't walking on my own, it made me feel more like myself again. I cried the first time they put me on it because it felt so good to see my body moving the way it used to."
In addition to the Lokomat, Healy says she looked forward to physical therapy in the pool, which soothed the spasms in her body and gave her more mobility, and the equine therapy at a local barn.
"Even when I could barely sit up on my own they got me up on a horse," beams Healy. "That really stuck with me. I still do equine therapy at a barn near my home."
Healy spent three months at Bryn Mawr Rehab and says, "It wasn't the easiest time of my life, but it was the best place for me to go."
Although she returned to college and completed her coursework and student teaching to earn her degree, Healy has decided that teaching may not be ideal because of residual fatigue.
"I'd still like to be involved in a school setting, but I'm testing the waters to see where my strengths truly are," she says. "I want to feel accomplished and that I'm contributing."
Today, Healy is able to perform all of life's daily tasks on her own. She even got her driver's license back in January 2015.
"Bryn Mawr Rehab has been there every step of the way," says Healy, who still keeps in contact with her therapists. "I formed a special relationship with them. It's good I had such a caring facility during such a difficult time."