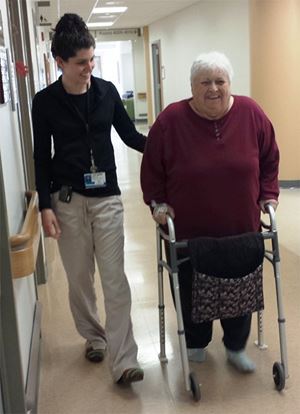 When Diane Landis found out she needed her hip replaced, it was no question who she would choose for her surgery. Paoli Hospital orthopaedic surgeon Jonathan Garino, MD, was at the top of her list.
"After I shattered my knee at work five years ago, I went to Dr. Garino for my knee replacement surgery. He was a top-notch surgeon. When I found out I was going to need a hip replacement, I knew I wanted him to do that surgery, too," says Landis.
But it wasn't just personal preference that made Landis seek out Dr. Garino for the second time. Her knee replacement had been a unique and complicated one, and she knew that using the same surgeon for both would minimize the risk of complications.
"Diane had a distal femoral replacement, essentially a very complicated knee replacement. The stem of the implant used for the surgery was placed very close to her hip," explains Dr. Garino. "As a result, when it came time for her hip to be replaced, we weren't able to use a traditional hip prosthesis for her. We had to develop a custom prosthesis specifically for Diane."
The perfect fit
During joint replacement surgery, orthopaedic surgeons strive to ensure that each prosthesis is as close as possible to a patient's normal anatomy. Although hip prostheses are available in a limited range of shapes and sizes, they can typically be manipulated to fit most joint replacement patients. However, in cases like Diane's, surgery can require a custom-made prosthesis. Besides providing a better fit, these custom pieces can reduce time spent in surgery and under anesthesia and minimize recovery time and the risk of joint stress or shock.
"There are benefits of a custom hip prosthesis, but it's no better than a traditional one," says Dr. Garino. "The most important thing is finding the best fit for the patient."
In order to create Diane's custom prosthesis, Dr. Garino worked closely with a local medical instrument company. In the weeks leading up to her surgery, Dr. Garino supplied the company with a series of x-rays, measurements, and 3D drawings to ensure the perfect fit.
On November 18, 2013, Diane underwent hip replacement surgery. After two days of inpatient physical therapy, Landis was able to return home. In January 2014, two months after her surgery, the pain she had been dealing with for months leading up to the surgery was gone, and she says she's "feeling great."
"Dr. Garino is a wonderful surgeon. He made me feel comfortable every step of the way," Landis says.