Most people who have problems with their aorta—the main artery that carries blood to the body—are unaware of their condition. That's because aortic disease doesn't cause symptoms until it becomes potentially life-threatening. Thankfully, experts at Lankenau Heart Institute, part of Main Line Health, are focused on this complex disease and specialize in aortic dissection treatment.
Call 484.476.1000 for consult
Not ready to make the call? Contact us online.
Aortic dissection treatment starts with diagnosis of aortic disease
"Oftentimes, patients learn they have aortic disease by accident, such as during imaging for another issue. Others aren't aware of it until an emergency occurs. For example, an aortic aneurysm can burst or the aorta can tear," explains Dr. Basel Ramlawi, MD, system chief of cardiothoracic surgery and co-director of the Lankenau Heart Institute. "There are so many advances in the treatment of aortic disease. The biggest battle is early detection."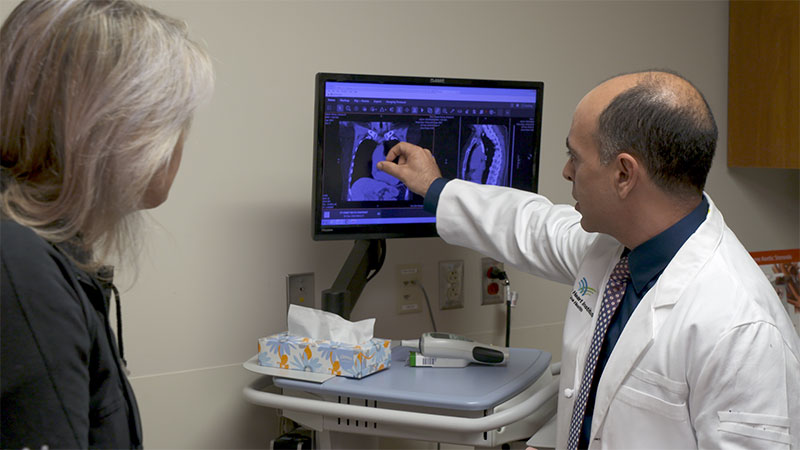 Are you at risk for aortic disease?
One of the greatest predictors for aortic disease is chronic high blood pressure. But family history and genetics play a major role as well. The Lankenau Heart Institute provides advanced imaging to help diagnose aortic disease and genetic testing to help identify family members who may be at increased risk. (Find out more about ancestry and genetic heart disorders.)
"If you or a family member has a history of aneurysm, high blood pressure, a congenital valve issue or connective tissue disorder, it's important to get screened," advises Dr. Ramlawi. "Aortic disease can occur in otherwise healthy people."
Minimally invasive aortic dissection treatment performed by top surgeons
Not everyone who has an aortic disease needs extensive treatment. Many patients need only monitoring and blood pressure management. When surgery is necessary, Lankenau Heart Institute's multidisciplinary team offers leading-edge expertise.
"In addition to treating the vast majority of surgical patients with minimally invasive techniques, we offer appropriate patients access to the very latest therapies through our involvement in clinical trials," explains Robert Meisner, MD, vascular surgeon at Lankenau Heart Institute.
Innovative, advanced surgical options
Debra Young is one patient who received life-changing care as a result of a clinical trial. Young's brother had died of aortic disease, but she was not aware it could run in families. When the healthy 61-year-old experienced severe, tearing pain in her chest, she went to her local emergency room, where she collapsed. Young, who had suffered an aortic dissection, was quickly transferred to Lankenau Medical Center for advanced care.
A tear in Young's aorta caused the artery to enlarge and layers of the aorta wall to separate and leak, reducing blood flow to the rest of her body. The condition, which mimics symptoms of a heart attack, can quickly lead to fatal aortic rupture.
Young was a candidate for a clinical trial at Lankenau Heart Institute studying the use of an endovascular aortic stent-graft with aortic dissections. (Traditionally this therapy has only been used for aortic aneurysms.) This new, innovative treatment for aortic dissection helps seal the layers of the separated aorta wall, allowing them to grow together and heal.
The surgery, performed by Drs. Ramlawi and Meisner, was a success. And today, just weeks after the minimally invasive procedure, Young's aorta is healing. She is also working with the institute's genetic specialists to help identify the risk to other family members.
"The kindness, support and care I received at Lankenau was unbelievable," says Young. "I won't go anywhere else."
Family history and genetics are the most important indicators for increased risk of aortic disease. Lankenau Heart Institute provides comprehensive care for the full spectrum of aortic problems, including advanced diagnostic testing, screening, monitoring and individualized aortic dissection treatment.
Main Line Health serves patients at hospitals and health centers throughout the western suburbs of Philadelphia. To schedule an evaluation, call 484.476.1000.