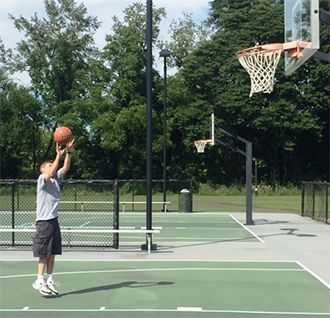 By the time he was 21, Dave Frankel's knees had been through a lot.
As a teenager, he was hit by a car and spent time recovering in a body cast. Despite the trauma, he recovered quickly and walked on to the Syracuse University basketball team as a freshman. Only a few months into his college basketball career, he had a meniscus tear in the other knee from favoring it after his earlier injury.
Although the injury sidelined him and had left his knees distorted, it didn't keep Frankel from being on his feet. Over the next several decades, he continued to live an active lifestyle—running, playing basketball and keeping up with his children.
In recent years, though, Frankel began to notice his knee pain was becoming just that—a pain.
"In the last two years, I didn't even realize it—I began to change my whole lifestyle because of my knee pain. I would have tickets to a ball game and not go because I didn't want to have to walk so far. I'd have plans to go to the grocery store one day and my knees were killing me so I'd put it off," says Frankel.
With some encouragement from his family, Frankel decided to look into a permanent solution to his pain. He made an appointment with orthopaedic surgeon Dr. Eric Smith, MD, of the Rothman Institute of Orthopaedics at Riddle Hospital, who had a local office in Royersford.
For Frankel, choosing where to have his surgery was easy. The Royersford native was familiar with his options for a complex surgery, and knew that he wanted a Rothman physician.
"I was pretty determined to have a Rothman doctor do my surgery. I had always heard good things about them, and their partnership with Riddle made it very convenient."
During his first appointment and a consultation, Dr. Smith recommended a double knee replacement and reconstructive surgery for Frankel.
"It's incredible that he was able to put up with this pain for so long," Dr. Smith says of Frankel. "He is truly a remarkable patient for his ability to get through work and through his life for so long with that type of an injury. The dramatic deformity of his knees made surgery much more challenging. When it came time to treat him, it was important to do both knees at once because if we were to straighten only one out, he wouldn't be able to walk or rehab properly with one straight leg and the other still distorted."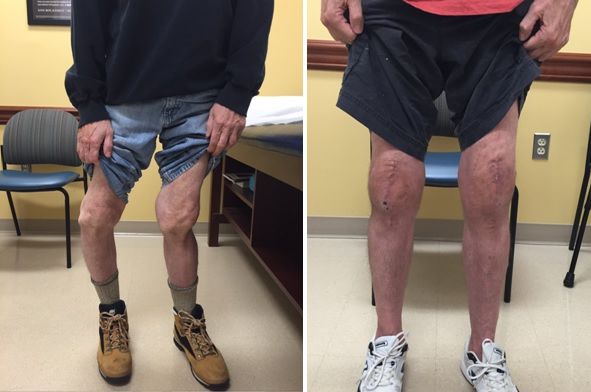 Dr. Smith continues, "Even though doing two surgeries at once required a bit more time and a great deal of reconstruction, it was important to get them both done since he was healthy enough. Doing both knees at once isn't for everyone and in some instances can be too risky. But with a patient like Dave, his likelihood of having a great recovery was exponentially higher than if we had done one at a time."
And so, Frankel's surgery was scheduled for June 6 at Riddle Hospital, part of Main Line Health. After his discharge, he completed two weeks of inpatient physical therapy at Main Line Health's Bryn Mawr Rehab Hospital.
"This whole experience changed me, particularly the rehab. I was working alongside single and double amputees, and it made me think, 'I'm not going to complain. I'm going to promise myself to be motivated and to be the best I can be'," says Frankel.
And Frankel kept his promise. Only two months after his surgery and rehabilitation were complete, Frankel's knees have allowed him to get back to doing the things he enjoyed. During a recent trip to a baseball game, Frankel insisted on buying tickets for seats at the highest level to challenge himself to make the climb without the help of an elevator or escalator. He made the climb—and felt great doing it.
"I'm more comfortable on my legs. I haven't felt this good since I was in college," says Frankel.
Though Frankel's determination helped get him back on his feet, he appreciates the work of his care team, including his therapists and—of course—Dr. Smith.
"I loved Dr. Smith. He was a very nice guy, he answered all my questions, and his whole staff was wonderful. Anytime I had a question, they had the answer immediately or called me back if they needed to find it," says Frankel. "They made the process so easy for me."
Frankel is quick to recommend Dr. Smith and Rothman at Riddle to others, but it's his lifestyle that serves as the greatest testament to his care. On any given day, you can catch Frankel running, walking, or shooting hoops with his children—and doing it all pain-free.
"It's the best thing I've ever done."
From evaluation and treatment through recovery and rehabilitation, Main Line Health's orthopaedic professionals are committed to providing the best possible care.