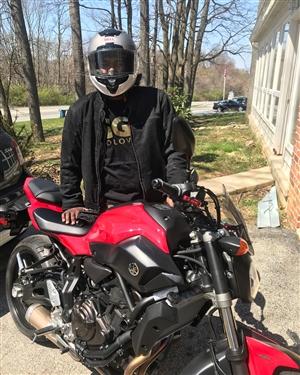 At age 27, Chandler Rustin was looking forward to starting the next phase of his life. But, before he could, he knew there was one factor he'd need to address: his weight.
"I was at an age where I'd want to find someone to settle down with and start building a family. But, as I looked forward to the rest of my life, I knew my weight was going to be a struggle," recalls Rustin.
While Rustin had struggled with his weight throughout his adult life, he decided he was ready to make a change. During an appointment with his primary care doctor, Rustin inquired about his options. His doctor referred him to Richard Ing, MD, medical director of the Bariatric Program at Bryn Mawr Hospital, part of Main Line Health.
In 2016, Rustin visited Dr. Ing to learn more and to determine if his weight made him a candidate for weight loss surgery. While he was eager to make a positive change, Rustin learned he wasn't ready to make any decisions about surgery yet. "I wasn't sure if I was ready, if I was in the right mind frame to undergo such a significant transformation."
Instead, Rustin tried losing weight on his own. While he found success, he said that—eventually—he reverted back to his old lifestyle and had difficulty adopting better eating habits. In 2017, one year after his initial appointment, Rustin returned to Dr. Ing. This time, he was ready.
"After a year of trying on my own and weighing my options, I decided that this is really what I wanted to do. I was sure this was going to be the best long-term plan for me to get healthier and get my life started," he says.
And so, in May 2017, Rustin underwent a laparoscopic duodenal switch surgery, a procedure which would reduce the size of his stomach by approximately 70 percent. In turn, Rustin would feel fuller longer and—as long as he adhered to his treatment plan—could lose a significant percentage of his body weight.
"Mr. Rustin's goal was to lose more than 200 pounds, which is a significant weight loss. It made him a candidate for the laparoscopic duodenal switch surgery (DS), a technique that requires significantly shrinking the stomach and, in turn, the time it takes for food to travel through the small intestine," explains Dr. Ing. "As food travels more quickly, the body has less time to absorb calories, which advances weight loss."
Rustin was glad to find a doctor who was committed to helping him lose weight. But he was even more excited to find someone who was committed to helping him make the healthiest decision possible. "Dr. Ing's approach was special. It wasn't just meeting with a doctor and then losing weight; it was an actual program and people were there to help me make a healthy decision and walk me through each step of my preparation, surgery and recovery," he says.
Adjusting to life after surgery
Rustin admits that, in the days and weeks following his surgery, it wasn't smooth sailing right away. "Not being able to get up and move as quickly as you'd like or not being able to drink a glass of water takes a mental toll. For me, the biggest aspect of recovery was keeping my head in it and focusing on the outcome," he says.
Despite the emotional toll that it took on him, Rustin says he wasn't surprised by these aspects of recovery. "It's everything the Bryn Mawr team prepared me for. There were no surprises."
Now—a year into his post-surgical weight loss journey—Rustin says he's feeling better and living healthier, thanks to the guidance and support from the Bariatric Program team. He credits the dietary and nutrition information they provided him with for helping him better understand healthy portion sizes.
"Understanding exactly how much food I need during each meal has been helpful. I used to eat a lot of food at once, but now I'm eating smaller and more appropriately sized portions," says Rustin. "And I'm much more comfortable eating vegetables!"
Beyond Rustin's emotional and mental transformation, he's found great success with his weight loss. With a starting weight of 450 pounds, Rustin has now lost nearly 200 pounds. He hopes to lose 15 more pounds in order to reach his goal weight. Still, he's enjoyed the journey—Rustin is now able to ride his motorcycle again, a hobby he couldn't do as often before surgery. And for that, he credits his hard work as well as the support and expertise of the Bariatric Program team.
"When I chose Bryn Mawr Hospital, I had done my research—I knew Dr. Ing was an accomplished surgeon," he says. "But I was so impressed with the rest of the staff and the support they gave me every step of the way."
To explore whether bariatric surgery is right for you, register for a free bariatric information session where you'll meet bariatric surgeon Richard D. Ing, MD.
For more information or to schedule a consultation, call 484.476.6230.