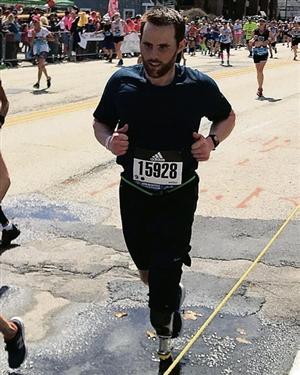 Brian McDermott is preparing for the Boston Marathon.
Despite his experience as a college athlete, he never expected to find himself at the starting line. But then, McDermott has learned to expect the unexpected. In May 2013, McDermott was hit by a car and suffered several injuries, including a fractured pelvis, shoulder and leg.
"I was in bad shape," recalls McDermott. "The surgeon who repaired my pelvis told me it was one of the worst injuries he had ever seen, and that he wasn't sure how my body would tolerate the surgeries I needed or if they would even be successful."
Fortunately, all of McDermott's surgeries—10 in total—were successful. But his left leg had been injured so severely that it required a below-the-knee amputation. Faced with a long road to recovery ahead, McDermott resorted to the same mindset with which he had approached his role as a fullback at West Chester University: by challenging himself physically and mentally.
Road to recovery
McDermott's first step was finding a place to complete his physical rehab. He and his family chose Bryn Mawr Rehabilitation Hospital, part of Main Line Health, in Malvern. Having grown up in Bryn Mawr, McDermott was familiar with the hospital and his grandfather had been a former patient. "My family was very familiar with the reputation Bryn Mawr Rehab has in the area," says McDermott.
Until McDermott's wound from his amputation surgery had fully healed, he wouldn't be wearing his prosthetic leg. He arrived at Bryn Mawr Rehab with the goal of strengthening his right leg after a month-long hospital stay and learning how to complete daily activities with one leg until his prosthetic had arrived.
"Our goal was to give Mr. McDermott the tools and information he needed to be as independent as possible," says Jaclyn Haley Grenier, amputee clinical coordinator at Bryn Mawr Rehab Hospital. "It included everything from strengthening his core and his arms—which he would rely more heavily on—to everyday tasks like walking up and down the stairs and transferring from sitting or laying to standing."
Following an inpatient stay, McDermott returned home, where he put his new knowledge to the test. "I was figuring out how to live life with one leg; getting around my house, getting dressed, getting in and out of the shower and up and down the stairs were all new challenges. I was fortunate to be young and athletic and I still had the drive and mindset I did before my accident, but I needed to re-learn how to do everyday things," he says.
After several months at home, McDermott's wound had healed and he had finally received his prosthetic leg. He returned to the Amputee Treatment and Rehabilitation Program at Bryn Mawr Rehab once again for a weeklong stay to undergo prosthetic training.
The Amputee Treatment and Rehabilitation Program offers inpatient and outpatient therapy aimed at helping patients with amputation adjust to life after losing a limb. Prosthetic training can include everything from gait training (like McDermott) to stair climbing, skin and sock management and establishing a Wearing Schedule.
"We have such a comprehensive program here. Once you get the prosthetic, you come back to Bryn Mawr Rehab for prosthetic training," says Grenier.
This time, McDermott's therapy team was focused on making sure the prosthetic fit him appropriately and helping him adjust his gait accordingly.
"It's pretty cool," says McDermott of the training. "If I'm wearing pants, most people would have no idea I had a prosthetic leg."
After rehab, chasing a new passion
In the years since his stay at Bryn Mawr Rehab, McDermott has found success in pursuing a career as a football coach for his alma mater and, now, as a sports performance director and physical trainer. He found a new passion, too: running.
"My wife is a runner, so I started to do a little bit on my own," he says of his introduction to the sport. "I fell in love with the competitive aspect of it."
With a few practice runs under his belt, McDermott signed up for his first 5K. And, after he crossed the finish line, he just kept running. He and his wife signed up for a half marathon shortly after, and two more after that. In January 2018, the pair headed to Disney World to compete in McDermott's first marathon. McDermott didn't just cross the finish line with bragging rights and a medal—his 4:20 finish had also qualified him for the Boston Marathon, the world's oldest marathon, and one of the most challenging.
"I knew that my time was good enough for me to apply for Boston, and it was something that I had considered but—for the time being—I put it at the back of my mind and just wanted to celebrate the success of finishing Disney," says McDermott.
But as the deadline to apply for Boston inched closer, McDermott knew he had to take a chance. He applied, understanding that he was among thousands of runners who was hoping for a coveted spot in the race. In late 2018, he found out he had earned a spot. "It was very exciting," he says.
As he prepares to compete alongside athletes from across the world, McDermott is proud of how far he's come since his accident and rehab.
"Running the Boston Marathon will be a big accomplishment for me. I don't know what comes next, but I would like to start training for a Paralympic event," he says. "That's my next goal—to compete with and be inspired by other men and women who have been affected by impairment."