When Ann Guanella was told that she needed to have coronary artery bypass surgery to treat blockages in three of her main coronary arteries, she quickly searched for options other than open heart bypass surgery. Ann turned to Francis P. Sutter, DO, FACS, campus chief of cardiac surgery at Lankenau Medical Center and the most experienced robotic heart bypass surgeon in the country. Dr. Sutter was able to perform robotic-assisted coronary bypass surgery on Ann — a less invasive procedure with smaller incisions and a faster recovery time, and the best alternative to open heart bypass surgery. Watch the video to learn more about Ann's experience.
It wasn't bronchitis – it was 90% blockage in her left anterior descending artery
Like many retired couples, Ann and Rich Guanella split their time between homes, spending half the year in Havertown, Pennsylvania, and the other six months in a small town in North Dakota. They had just journeyed to their lake home in the Upper Midwest when Ann felt pain in her chest while raking leaves.
"I have asthma and I just figured I was starting to get bronchitis because I was very congested," she recalls. This was a few months into the pandemic and Ann, already worried about catching the coronavirus, decided she better get checked out. The next day, she and Rich drove to the local emergency department.
An examination and tests showed Ann's lungs were fine—but her heart was not.
The emergency department team believed Ann had at one time suffered a small heart attack and her symptoms were related to that. They urged her to follow up immediately with her primary care provider. Shortly after that, on June 26, 2020, Ann had a diagnostic heart catheterization to see how well her heart was working. Ann had blockages in each of her three main coronary arteries; the most concerning was the 90 percent blockage in her left anterior descending artery (LAD). Because the LAD carries blood to large areas of the heart muscle, which pumps blood to the rest of the body, a significant blockage in this artery could cause a massive heart attack, known as the widow-maker. Ann's cardiologist told her she would need coronary artery bypass surgery.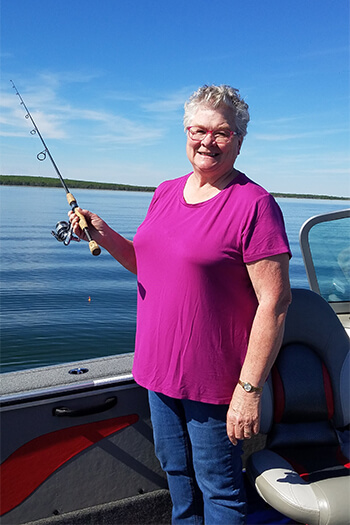 Open heart bypass vs. robotic coronary bypass surgery
Ann had other ideas. She knew that back in Pennsylvania, Lankenau Heart Institute, part of Main Line Health, had a highly regarded women's heart program and expertise in performing robotic-assisted heart surgeries. She heard that these procedures are performed through small incisions instead of opening the chest (which leaves a 12-inch scar), and patients recover much faster. After doing more research and with a recommendation from her internist, Ann decided to forgo other major heart centers in the northwest and come see Dr. Sutter.
Since 2005, Dr. Sutter has performed more than 2,300 robotic-assisted coronary bypass surgeries.
"Ninety-nine-plus percent of all patients having coronary bypass surgery have it done through a large incision down the middle of their chest. At Lankenau, we offer a robotic approach where we can access and repair the heart using a 1.5-inch incision. No other institution in the world does that," Dr. Sutter says. "While robotic surgery may not always be an option to traditional surgery, we do try to consider it first. It is why I encourage everyone who is told they need open heart bypass surgery to seek a second opinion about less invasive alternatives."
"The benefits of robotic surgery are revolutionary," adds Gianluca Torregrossa, MD, director of coronary revascularization, who joined Lankenau Heart Institute in July, and trained in New York and Chicago. "The entire field of heart surgery is being transformed by robotic-assisted approaches because of the positive benefits to patients. These include less pain, a lower risk of complications, quicker recovery, a better cosmetic result and markedly improved patient satisfaction."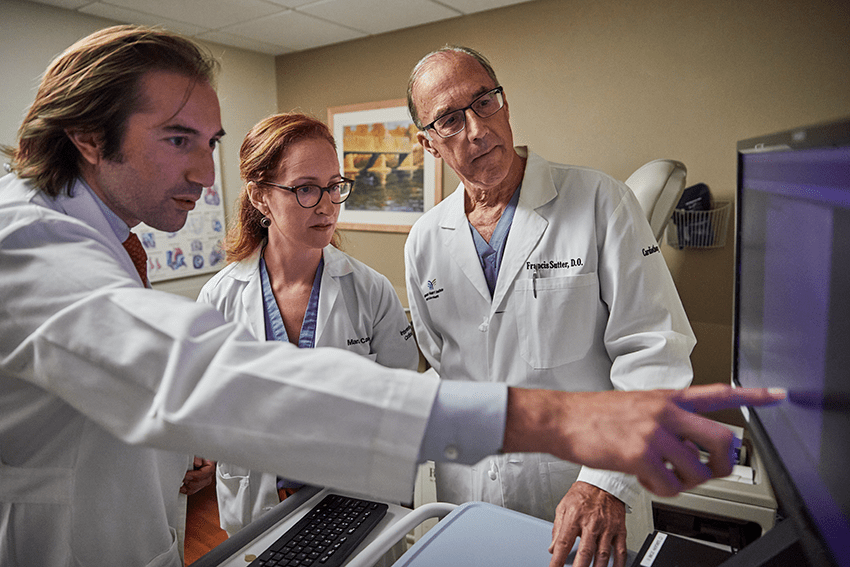 Heart team approach enhances patient outcome
The surgeons and cardiologists at Lankenau Heart Institute work collaboratively to determine the best care for each patient. As such, Dr. Sutter consulted with his interventional cardiology colleague, Mara Caroline, MD, about the most appropriate care plan for Ann. They were able to offer her an innovative, hybrid approach that blends robotic bypass grafting with coronary artery stenting to restore blood flow to the heart, without opening the chest.
Ann was excited. Dr. Sutter performed Ann's robotic coronary bypass surgery using her healthy, left internal mammary artery to bypass the blockage and restore blood flow to the heart. Three days later, Dr. Caroline implanted stents in the other coronary arteries needing treatment to keep blood flowing. The next day, Ann went home.
After robotic-assisted coronary bypass surgery, back to regular activities within days
That first day Ann could walk to her neighbor's house and back. And each day she was able to walk a little farther. By week three, she was "pretty much back to normal." For Ann, now 67, that means picking and canning wild berries and going fishing with Rich at their lake home. Ann also quilts and is a master gardener. Life is good, she says, thanks to her Lankenau heart team. "I can't say enough about the care I got. If you need heart bypass surgery, I highly recommend the team at Lankenau to have it done robotically. The recovery time is incredibly fast and you can get back to doing what you love in weeks versus months. They're a phenomenal team!"
Have you been told you need heart surgery? Main Line Health serves patients at hospitals and health centers throughout the western suburbs of Philadelphia.
To find out if you're a candidate for robotic coronary bypass surgery or to get a second opinion, schedule a consultation with Dr. Francis Sutter or Dr. Gianluca Torregrossa by calling 1.866.CALL.MLH (1.866.225.5654).