In 2005, Francis Sutter, DO, chief of cardiac surgery at Lankenau Medical Center, part of Main Line Health, pioneered an advancement in the field of coronary artery bypass surgery — offering an alternative approach to traditional open-heart surgery.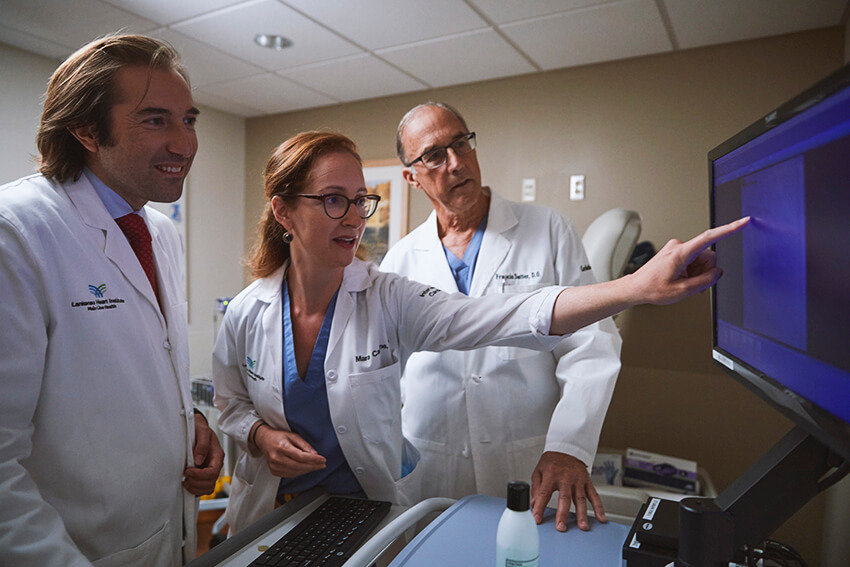 Lankenau Medical Center launched one of the nation's first programs for minimally invasive, robotic-assisted cardiac bypass surgery, seeking to reduce risks and decrease long-term complications as well as dramatically cut recovery time.
Outstanding results from research
Results were presented in January 2023 at the Society of Thoracic Surgeons (STS) annual meeting by Main Line Health physician researchers, one of the world's leading organizations for cardiothoracic surgeons.
Research showed the percentage of patients at Lankenau Medical Center having bypass surgery performed robotically is nearly 50 times higher compared to the rest of the nation's medical centers. It also demonstrated that, despite an older patient population, Lankenau Medical Center's long-term outcomes over 16 years were consistent or better than those in groundbreaking international clinical trials.
"I began performing the robotic procedure in 2005 because the traditional open-heart surgery was often too traumatic for older patients," says Dr. Sutter.
With minimally invasive coronary bypass surgery, patients get back to their daily lives in half the time compared to recovery from an open-heart surgery.
"Over 99% of all patients having coronary bypass surgery have it done through a large incision down the middle of their chest. The robotic approach allows us to access and repair the heart using a 1.5-inch incision. No other institution in the world does that," says Dr. Sutter.
Paving the way with revolutionary procedures
In 2021, 54.9% of all coronary artery bypass procedures performed at Lankenau Medical Center were done robotically, according to STS data, compared to 1.2% performed nationally.
"These kinds of results are why cardiac specialists throughout the region refer coronary bypass patients to us," says Katie Galbraith, MBA, FACHE, president of Lankenau Medical Center.
Dr. Sutter has performed over 2,500 robotic bypass surgeries, more than any surgeon in the United States.
"While robotic surgery may not always be an option to traditional surgery, we do try to consider it first. It's why I encourage everyone who is told they need open heart bypass surgery to seek a second opinion about less invasive alternatives," says Dr. Sutter.
Next steps:
Make an appointment with Francis Sutter, DO
Learn more about heart and vascular care at Main Line Health
Read Ann's incredible robotic coronary bypass survival story