Albert Hernandez was diagnosed in March 2004 with rectal cancer. After chemotherapy and radiation therapy, Mr. Hernandez underwent a complex TATA surgery with Dr. John Marks, and subsequent colostomy removal.
Lankenau physician, and father of Dr. John Marks, Dr. Gerald Marks, was a founder in developing the TATA procedure which preserves sphincter function, eliminating the need for a permanent colostomy. This technique is now routinely performed laparoscopically and is taught to surgeons all over the world by his son, Dr. John Marks.
---
Dear Lankenau Leaders,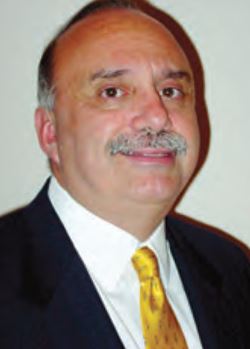 When I was diagnosed with rectal cancer I immediately took time off from my business to concentrate on extensively researching the very best colorectal surgeons in the world. Weeks later, I had identified the top 11.
I traveled the globe to meet with each of them, visiting recognized international institutions in London, Paris, Brazil and Atlanta, as well as the Cleveland Clinic and Sloan-Kettering, until I reached number seven – Dr. John Marks at Lankenau Medical Center.
I'd done the research and I knew what I wanted. The rectum removal surgery I would need commonly meant having a colostomy for the rest of your life but I was driven to find someone who could help me avoid that. I believed it was possible. After meeting Dr. Marks, I stopped searching.
What I immediately liked about Dr. Marks was that he was clearly motivated by the art of his surgery and his ability to improve the lives of others, rather than a physician caught in what I would call a production environment – where a patient becomes just a number in an institution driven by financials. Dr. Marks is not only dedicated to his patients, but to training other surgeons and sharing his wealth of knowledge that his father once shared with him. It became very apparent to me that money isn't the reason Dr. Marks does what he does. He believes in his techniques, he believes in making life better for people. Over the course of my treatment, we developed a wonderful relationship.
During my stay at Lankenau post-surgery, I made friends with all of the nurses. The attention and service was fantastic. During my recovery both Dr. Marks and his father would call me to check on my progress. They made me feel like family. My takedown procedure to remove a temporary colostomy was in November. By the first week of December I was cancer-free and colostomy-free giving a speech in a public forum, and actively back at the office.
The way I see it, Lankenau is a smaller-sized hospital with big-hospital capabilities. You get extensive personal attention rather than being lost in the shuffle at a larger institution. Meanwhile the sophisticated procedures and educational emphasis creates the ideal environment to draw a whole lot of talent.
I feel so lucky to have been able to travel to find the world's best colorectal surgeon. I couldn't have found a better place than Lankenau for my surgery, and I couldn't have been in the hands of a better team. Dr. Marks and his father are leaders, respected and revered by their peers. Nowadays I fly up to Philadelphia from my hometown in Florida for my routine colonoscopy and if I ever need any kind of surgery going forward, I'd make the trip up to Lankenau with no hesitation.
Originally published in Spring 2012 issue of 'Lankenau Leaders