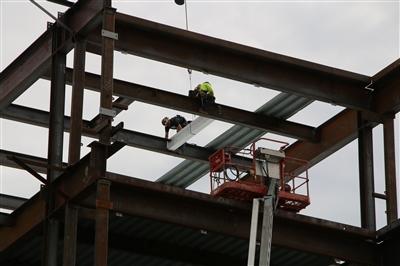 On Friday, March 12, Riddle Hospital, part of Main Line Health, celebrated a milestone in its campus modernization project. A small group of hospital staff and Main Line Health senior leadership gathered for a topping off ceremony to watch as the final beam was placed on top of the hospital's new patient care pavilion. 
The five-story, approximately 230,000-square-foot Patient Pavilion is one of the most significant additions to the Riddle Hospital campus, which is currently undergoing a $327 million campus modernization project, the largest in the hospital's history. When completed, the Patient Pavilion will offer modern, private rooms for enhanced patient privacy, a new surgical suite and a new maternity suite. 
Despite the challenges of the COVID pandemic, Main Line Health has remained committed to Riddle's modernization project and reinvesting in the campus.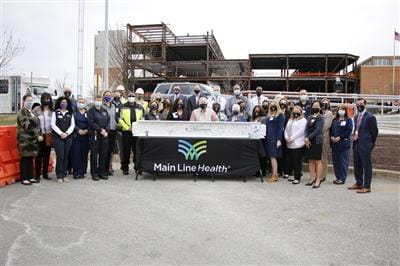 "Following a very difficult year, this topping off ceremony is an exciting reminder of a bright future. The goals of our campus transformation were built on a solid foundation of the patient and staff experience. We want to create a healing environment and further enhance the privacy and satisfaction of our patients to provide them the experience they not only expect but so deserve," noted Shelly Buck, DNP, MBA, President of Riddle Hospital.
The Patient Pavilion is expected to be complete by the summer of 2023, with other renovations and project activity lasting through the summer of 2024. During the entire construction process, Riddle Hospital will remain open and ready to serve our community. Learn more about Riddle's campus modernization project.