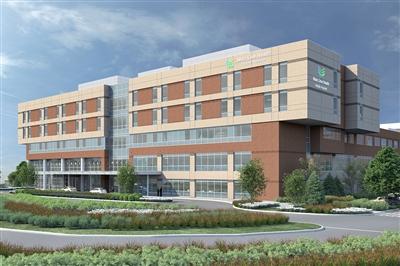 Riddle Hospital, part of Main Line Health, has been given approval from the Main Line Health Board of Governors and Middletown Township on an approximately $327 million Campus Master Plan to modernize the hospital campus. This initiative will mark the most significant facility improvement in its nearly 60-year legacy and one of the largest capital investments in Main Line Health history.
"We are thrilled for this historic campus modernization project at Riddle Hospital," says Shelly Buck, DNP, MBA, president, Riddle Hospital. "In my time at Riddle thus far, I have already witnessed the talent, professionalism, passion and dedication of the Riddle Hospital staff. The revitalization of the Riddle campus will truly elevate the facility to match the superior care already provided within the walls of the hospital."
The modernization project includes the construction of a new five-story, approximately 230,000-square-foot Patient Pavilion comprised of the following:
A new main entry
Radiology and pre-admission testing suite
10 replacement operating rooms in a state-of-the-art surgical suite
A comprehensive maternity care area with 16 post-partum rooms, five labor and delivery suites and two C-section suites
Hospital pharmacy and kitchen
76 private patient rooms, all acuity-adaptable
The plan also includes renovations to existing care units and support areas,including the creation of a 13-bed intensive care unit. The Patient Pavilion will be situated at the front of Riddle's campus, along the Baltimore Pike corridor, taking the place of the existing flat parking lot. Additional parking will be constructed in the area of the current Annex Building, which will be taken down as part of this project. The Campus Master Plan will be supported by a community fundraising effort.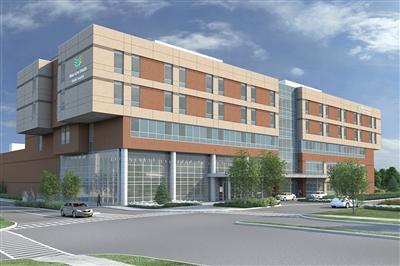 "One of our strategic imperatives at Main Line Health is to reinvest in the facilities and technology needed to advance the health of all those in the communities we serve," says Jack Lynch, FACHE, president and CEO, Main Line Health. "This campus modernization project reinforces our commitment to serve as stewards of health and wellness by ensuring Riddle Hospital is positioned to provide high-quality, human care well into the future."
An international architecture, engineering and planning firm, CRTKL, is designing the patient pavilion and existing department renovations, and P. Agnes, Inc.will be managing the building construction. Stantec Consulting Services, Inc.,is serving as the overall project manager.
Early sitework and utility work is planned to begin in early 2020 and groundbreaking for the new patient pavilion and other Hospital renovations will begin in the summer of 2020. The first phase of the project is expected to be complete by the summer of 2023, with other renovations and project activity lasting through the summer of 2024. During the entire construction process,Riddle Hospital will remain open and ready to serve our community.
To stay up-to-date on the progress of Riddle's Campus Master Plan,visit mainlinehealth.org/rhmodernization.