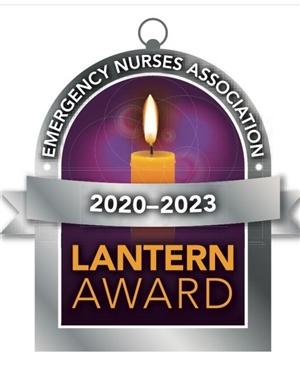 Paoli Hospital, part of Main Line Health, is one of 25 emergency departments across the globe to receive the 2020 Emergency Nurses Association Lantern Award. 
 
"I am incredibly proud of our staff for their part in earning this very prestigious accolade," says Bill Belmonte, nurse manager of the emergency department at Paoli Hospital. "Our team strives for greatness each and every day, and this award is a direct reflection of everyone coming together to demonstrate their collective commitment to high-quality, human care for our patients."
 
The Lantern Award recognizes emergency departments that demonstrate excellent practice and innovative performance through leadership, education, advocacy and research. Emergency departments are encouraged to share their stories when submitting an application which highlight their commitment to care of patients, as well as the well-being of nursing staff. Applications are reviewed and selected by the ENA Lantern Award Committee. This year, the ENA has expanded their reach for award winners worldwide.
 
"I want to congratulate our staff for this very well-deserved recognition," says Jim Paradis, President, Paoli Hospital. "Being one of only 25 emergency departments in the world to be awarded with the 2020 Lantern Award is truly remarkable. It represents the expertise of our dedicated staff, and reflects the renowned reputation of the superior care we deliver to our patients and community members. 
 
"The ENA Lantern Award is named in honor of Florence Nightingale, who worked to improve and change nursing in the 19th century. It's particularly exciting for these 25 emergency departments to receive this award during her 200th anniversary," said ENA President Mike Hastings, MSN, RN, CEN. "Each of these emergency department's staff should be proud of the power they hold. They've made such positive impacts on the profession and the lives of their patients."
 
Main Line Health's team of specially trained emergency department physicians, nurses and technicians—using the most advanced protocols and technology—is available around the clock. Additionally, Paoli Hospital and Lankenau Medical Center are certified Level II trauma centers, meaning they are equipped to handle serious injuries associated with major accidents from falls, automobile accidents and sports injuries.