The fellowship program is directed by Mr. John J. Lynch, III and Mr. Phillip D. Robinson, FACHE, who offer 50+ combined years of health care administration experience.
John J. Lynch, III, president and CEO, Main Line Health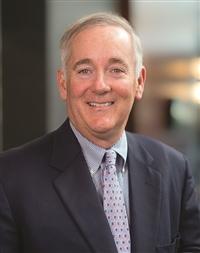 John J. (Jack) Lynch, III, serves as president and chief executive officer of Main Line Health. Mr. Lynch came to Main Line Health in August of 2005 after almost 20 years as an executive with the St. Luke's Episcopal Health System in Houston, Texas. Mr. Lynch joined St. Luke's in 1986 as an assistant vice president and rose steadily to the position of executive vice president and chief operating officer for the system, as well as chief executive officer of St. Luke's Episcopal Hospital. St. Luke's Episcopal Health System comprises St. Luke's Episcopal Hospital in the Texas Medical Center; St. Luke's Community Medical Center-The Woodlands; St. Luke's Episcopal Health Charities, a charity devoted to assessing and enhancing community health; and Kelsey-Seybold Clinic, consisting of 21 Houston-area facilities.
Mr. Lynch is a native of Washington, D.C. He received his undergraduate degree from the University of Scranton in Pennsylvania, and his master of health administration from the Washington University School of Medicine in St. Louis, Missouri. He is a diplomate of the American College of Healthcare Executives, and has served on the board of a wide variety of professional associations including the Texas Hospital Association and the Greater Houston Hospital Counsel.
Mr. Lynch also brings a strong background in community service, having chaired the health care campaign of the United Way of the Texas Gulf Coast, served on a committee of the Greater Houston Partnership, and been a board member and chairman of both The Hospice at the Texas Medical Center and the Houston Hospice and Palliative Care System.
Mr. Lynch and his family reside in Wayne, Pa.
"The Fellowship Program at Main Line Health provides a unique experience to emerging health care leaders. Coming from a fellowship program myself, I take the program seriously, and I am fully dedicated to providing the fellows with experiences that will not only enhance their skills but to develop new ones to fully arm them for the future challenges of health care." –John J. Lynch
Phillip D. Robinson, FACHE
Phillip D. Robinson, FACHE, became president of Lankenau Medical Center on March 31, 2011, after serving as interim president for the hospital for the prior eight months. Robinson has more than 30 years of health care experience and a career highlighted by successive executive leadership roles in both the for-profit and non-profit sectors.
Most recently, Robinson served as a managing director with the consulting firm Hunter Partners, working with major health care organizations throughout the country to enhance their operations. His prior executive positions with large hospital systems include serving as CEO of St. Joseph Medical Center, a 792-bed acute care teaching hospital in Houston, Texas, as well as CEO of two HCA health care hospitals in Texas and in Florida, including the HCA's flagship, JFK Medical Center in Palm Beach County Florida. Additionally, he served as the hospital director of the Ocshner Foundation Hospital in New Orleans and held numerous executive roles at the Methodist Hospital System in Houston, where he began his career. He has been a Fellow in the American College of Healthcare Executives for over twenty years.
Robinson holds a masters degree in health administration from the Washington University School of Medicine, and an undergraduate degree from Texas A&M University. The author of the new book, Anticipate, Respond, Recover: Healthcare Leadership and Catastrophic Events, published by Health Administration Press, he has extensive experience in developing and executing emergency preparedness protocols in a hospital setting. He also serves on the adjunct faculty at the School of Rural Public Health at Texas A&M University and has served on the adjunct faculty at Washington University in St Louis and Florida Atlantic University in Boca Raton.
The recipient of numerous awards, Robinson received the Modern Healthcare "Up and Comer" award in 1992 and the Washington University "Health Administration Program—Outstanding Alumnus" award in 2007.
Since his arrival to Lankenau Medical Center on an interim basis in July 2010, Lankenau opened a cutting-edge cardiothoracic intensive care unit, introduced a Comprehensive Breast Care Center and recently broke ground on the $529-million Heart, Vascular and Lung Patient Care Pavilion. Scheduled to open in 2013, the Patient Care Pavilion will be a five-story, 281,000-square-foot structure comprised of 96 private inpatient rooms and equipped with the latest technology to foster the most effective approaches in hospital quality and safety.