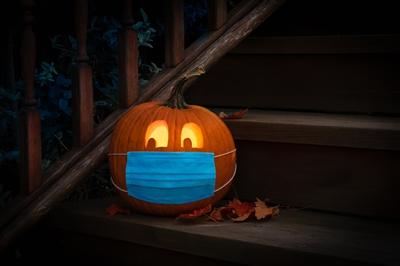 Just when you thought you had a handle on nut allergens in Halloween candy, now the kids can't even stick their hands in the candy bucket. Although some things look familiar this year, like face masks, bulk candy sales, and sale of Halloween décor starting much too early in September, parents of trick-or-treating kids are wary, and anyone who wants to have some Halloween fun has to get creative this year. Here's how to do Halloween 2020 safely:
Trick-or-treat tables – Set out a long table decorated with Halloween tablecloth and decorations galore. Pair up with your neighbor to make it even more fun, at a distance. Make your table inviting with pre-prepared, individual goodie bags that kids can grab and go without touching other items. You can also offer a ready-made drinks like spiced apple cider in pre-filled cups, which kids can safely take with them or drink at a safe distance from each other. Be sure to offer plenty of garbage cans for disposal of cups and candy wrappers. "I would be sure to have lots of hand sanitizer and wipes on the tables for ongoing clean-up and hand disinfection," suggests Eileen Sherman, director of infection prevention at Main Line Health. "And keep the tables clear of any garbage, debris or used items."

To make your commitment known to the neighborhood, take the Halloween Safe House Pledge from Hershey and post it visibly. Encourage your neighbors to do the same. The Hershey site also includes recommended activities to do or avoid based on the color zone of where you live and related COVID contagion in your area.

Trunk-or-treats – The Centers for Disease Control and Prevention (CDC) recommends staying away from large parking lots filled with cars that are "trunk-or-treating." A small number of cars in your own community or just a couple of cars in your parking lot pose less risk. With trunk-or-treats you can do it up with themed decorations, transforming the trunk of your car into anything from Frozen to Five Nights at Freddy's, or just a good old-fashioned autumn theme. Find clever, contactless ways for kids to grab some candies. 

Head to Treat Town – Mars Wrigley has created a nifty app called Treat Town that allows families to set up a profile, decorate their virtual door for Halloween, then shop for a bevvy of candies that fill the virtual trick-or-treat bowl that is available to friends and neighbors throughout October. Others can stop by and trick-or-treat at your place and you can trick-or-treat at theirs, any place in the country.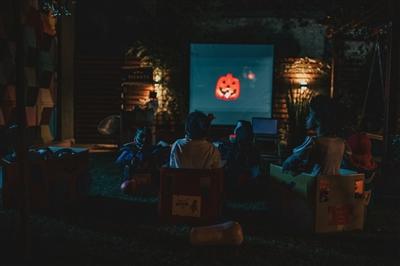 Zoom in on Halloween – If you can possibly stand another Zoom meeting, the platform is handy for pandemic pumpkin carving, virtual costume contests, even some activities that have gone out of fashion, like bobbing for apples (doing it at home with your family instead of sharing saliva with strangers). You could even set up a crackling campfire on TV or Zoom with your best friends and their kids and watch a movie together. 

Bicycle parades – With cycling being all the rage these days, kids can pedal their way through the neighborhood—decked out in their costumes. Coordinate with your neighbors the best bicycling route for the best viewing from front yards and sidewalks. For kids with longer costumes that could get tangled up in bike chains, have them parade on foot at the beginning or end. As a finale, reverse trick-or-treating could be fun—having the kids come back around on foot and throwing treats out to them. 

Reverse trick-or-treat – Remember all the fun you had scrambling for candies scattered on the ground from a piñata? Imagine the same for trick-or-treaters strolling by. Toss a handful of goodies and watch the excitement unfold. "A hand that's been washed with soap and water for 20 seconds, of course," says Sherman, "or has used sanitizer before handling candy. It's probably helpful to let the parents of trick-or-treaters know that you've followed this protocol." And in the process, you might have so much fun tossing candy, you'll want to do it even when there's not a pandemic! Just make sure there's enough lighting for the kids to see. 

Mask decorating/painting – How to do Halloween 2020 safely starts with a mask—and sorry, a Halloween mask alone isn't going to suffice. "All costumes that include Halloween masks must also have the protective face mask worn underneath or should have several layers of breathable fabric covering the mouth and nose," advises Sherman. To flaunt a trendy COVID mask, set up a mask painting station at home with the kids or outside with a small group from the neighborhood, six feet apart, of course. Let everyone have fun expressing their artistry on protective face masks. You can go with disposable paper masks or a bit more durable plain cloth mask. 

Pumpkin patches and apple orchards – You can still get a sweet taste of autumn at local orchards, where you can select a pumpkin, pick apples and shop for all things autumn.  Timed ticketing has been established to safely manage numbers of people for hayrides. Adds Sherman, "Use discretion wherever there are going to be large numbers of people touching the same surfaces repeatedly. Many places are doing a pretty good job of keeping things sanitized and controlled but if you're particularly concerned about exposure you may want to skip this activity altogether."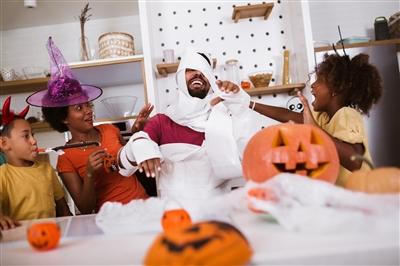 Monster Mash-It-Up – Get your creep on! Start with the original version of "Monster Mash"  by Bobby "Boris" Pickett and the Crypt Kickers. Then learn the dance together with the kids. Follow along on Just Dance on Wii or find a video tutorial you like. Add Halloween costumes to the mix to really mash things up.

And if you need a little extra assurance, be sure to check out the CDC recommendations on how to do Halloween 2020 safely. Like so many aspects of pandemic life, this year's festivities can bring neighbors, friends and family together in new and wonderful ways.
Main Line Health serves patients at hospitals and health centers throughout the western suburbs of Philadelphia. To schedule an appointment with a specialist at Main Line Health, call 1.866.CALL.MLH (225.5654) or use our secure online appointment request form.