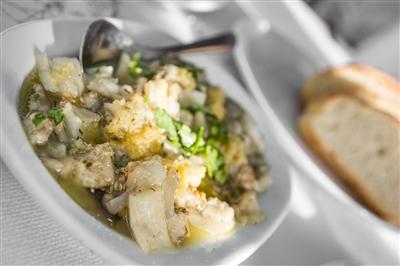 White instead of the ordinary deep purple, this eggplant claims a light mushroom-like flavor.  These small white beauties are versatile and don't need extra pre-prep.   This interesting side dish is also low in calories and rich in nutrients.
Ingredients
Casper eggplant, chopped into bite-sized pieces
1 tbsp olive oil
2-3 cloves garlic, minced
Fresh rosemary, chopped, to taste
Salt and pepper, to taste 
Instructions
Heat 2 tablespoons of olive oil in a large skillet over medium heat. Sauté garlic until fragrant.
Add eggplant, cook until tender. Season with salt and pepper to taste.

Recipe submitted by Margaret and Tara Parenti