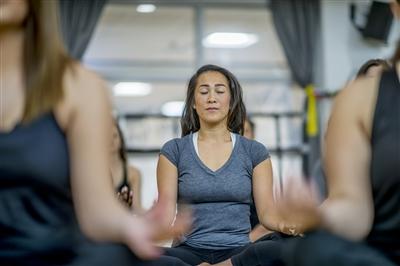 This article originally appeared in the fall 2018 edition of Women's Health Source.
For moms, "back to school" is often a welcome relief from the noise and activity of kids at home all summer. This can hold true until the kids graduate and go off to college or move out on their own. Then the empty rooms and overall silence can be troubling.
When kids leave home, many moms experience "empty nest syndrome"—feelings of sadness and loneliness. Like other big changes in women's lives, empty nest syndrome is an example of an event that can sometimes turn into anxiety and deep depression.
Main Line Health's Women's Emotional Wellness Center (WEWC) provides outpatient treatment services to help women through tough times. It's a supportive mental health therapy program for women ages 18 and older, and mindfulness is sprinkled throughout its offerings.
"Therapeutic mindfulness is learning to tend to your needs in the present moment—what you're thinking, feeling and needing now—instead of worrying about the past or the future," explains Liz Bland, MSW, LCSW, director of the WEWC. "For many people, anxiety is a spiral in the future. Our brains follow one worrisome thought to another, then another to another. Mindfulness teaches us to catch ourselves before we get carried away."
Mindfulness helps women deal with all sorts of anxiety—from postpartum blues to empty nest syndrome, from a serious illness to the loss of a loved one. In WEWC's group setting, women learn from their therapist and each other. These coping skills help with what they're facing now and also equip them for a healthier, happier future.
Those who participate in the program often say, "My anxiety is gone." But usually they've instead learned to deal with anxiety in a different way, explains Bland. "As women, we go through so many transitions. Mindfulness helps us cope with anxiety when it arises so we're able to get through the day and move on with our lives."
Main Line Health serves patients at hospitals and health centers throughout the western suburbs of Philadelphia. To schedule an appointment with a specialist at Main Line Health, call 1.866.CALL.MLH (225.5654) or use our secure online appointment request form.