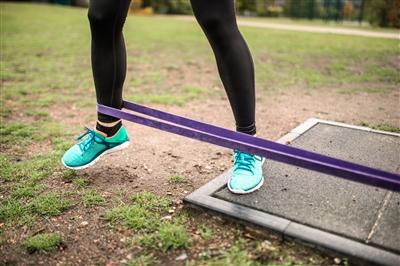 The last thing on your packing list for a holiday weekend is probably workout gear. After all, why pack gym clothes when it could take up space for another outfit?
There's good news: you don't have to choose. You can have fun and find time for fitness, too.
"Remember that, at its core, exercising is movement. You don't need a gym membership or any complicated workout gear to get out and get moving," says Donna Merkel, PT, MS, SCS, CSCS, physical therapist at Bryn Mawr Rehab Hospital, part of Main Line Health.
As you depart for some time away, here are a few tips to help you keep yourself focused on fitness without derailing your trip.
Find some travel-friendly workout gear
Packing hand weights in your luggage isn't feasible, but there is workout gear that you can easily carry with you as you travel.
"A set of resistance loop bands is a great tool for helping build strength, and they're lightweight, packable and affordable. One set is usually about 10 dollars," says Merkel.
Another affordable option? A jump rope! Take it back to your childhood and see how many consecutive jumps you can do for a quick cardio session.
If you're a regular exerciser and able to make a more significant investment in equipment, Merkel recommends the TRX Suspension Training System. It includes a set of two adjustable straps with foot and hand cradles that allow you to perform exercises using your strength and body weight as leverage.
If you're just beginning your workout routine or aren't able to purchase new equipment, Merkel's advice is simple: "Plan ahead and always pack your sneakers, even if you don't have exercise clothes. That way, you'll always be ready to take a walk!"
Aim for 10,000 steps
If you wear a smartwatch or fitness tracker, you're probably familiar with this rule. 10,000 steps equates to about five miles, and is the recommended goal for your best health. During the holidays, in particular, aiming to meet this goal may help ward off weight gain from holiday meals or goodies.
It can be hard to pull yourself away from holiday celebrations to go for a walk. Instead, Merkel suggests, look for little opportunities to move that won't disrupt your plans—like standing or walking during a football game's commercial break or halftime or setting your alarm a half hour earlier than your company to fit in an early morning walk.
If you can't go outside, go online
For a workout to be effective, it doesn't need to be hours-long. Many fitness-focused publications like Shape, Women's Health, Men's Health and Runner's World offer quick, free 20-minute workout guides or videos that you can do inside.
"All of these 20-minute routines are based on the same premise: a total body workout. They all combine squats, lunges, push-ups, sit-ups, planks and bridges that impact your whole body. If you're really at a loss for workout ideas or limited with space, you can always use one of these as your guide," says Merkel.
Before beginning any new workout routine, consult with your physician first.
To schedule an appointment with a specialist at Main Line Health, call 1.866.CALL.MLH (225.5654) or use our secure online appointment request form.