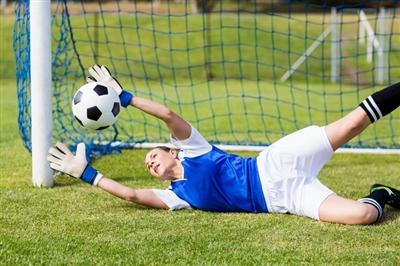 If you're a parent or coach, or you've been educated on concussion protocols before, chances are you've been warned that football can be dangerous and particularly risky sport for these notorious head injuries. But the sports that are climbing into the top spots for concussions may surprise you.
In research presented by the American Academy of Orthopaedic Surgery (AAOS) in spring 2017 that studied concussion rates among 100 high schools, female soccer players were found to have the highest rate of concussion. For sports where teams existed for both boys and girls, girls also experienced higher concussion rate.
"In our center, we do tend to see more female athletes than male athletes," agrees Donna Merkel, PT, MS, SCS, CSCS, physical therapist at Bryn Mawr Rehab Hospital, part of Main Line Health.
While Merkel says that Bryn Mawr Rehab's patient population could be due to several factors, she says the number of young female athletes who have enrolled in the Concussion Program has grown steadily in past years.
"Over the last couple years, we have definitely seen more female athletes coming to us for care following a concussion. Although this research may not be a surprise, it certainly reinforces a trend that we have seen for some time now."
What increases concussion risk?
While research has found that adolescent girls are at a greater risk for concussion than boys, the jury is still out on what factors might increase this risk.
"With research like this coming out, we need to pay more attention to female athletes and why they are getting concussions. When you look at them compared to their male counterparts, the game is the same, the rules are the same—so why are they at greater risk? So then we start to look at physiological differences," says Merkel.
These differences, which could potentially impact concussion risk, can include differences in head-to-neck ratio between girls and boys and difference in head size—specifically in soccer players.
Beth Kolar, advanced clinician at Bryn Mawr Rehab, agrees that physical factors, particularly overall body strength, can differ between girls and boys and potentially affect a girl's risk for concussion.
"While personal protective equipment (PPE) like helmets are important for many contact sports, I think that many concussions in both females and males can be related to a lack of core strength and agility training," says Kolar. "Building a stronger core can help improve neck strength."
While more time and research is necessary to accurately determine what can influence concussion risk among adolescent young women, there are still a few ground rules you can follow—as an athlete, parent or coach—to guard against concussion:
Exercise regularly, mixing cardiovascular and strength workouts
Whenever possible, avoid head-to-head contact or ball-to-head contact
Adhere to good playing standards: Follow the rules of the game
And a final tip—speak up!
"Many studies regarding concussion can be skewed because boys tend not to report their injuries as much as girls do," cautions Kolar. "While the data may not change, the reality is that many concussions in boys do go unreported. If you notice the symptoms of concussion, speak up and report them."
Concussion care at Bryn Mawr Rehab
Regardless of your age, sport or gender, Bryn Mawr Rehab's Concussion Treatment and Recovery Program is dedicated to getting you back in the game.
"When patients come to us for rehab after a concussion or a head injury, we focus on a variety of different areas. We're looking at their vestibular abilities, vision and balance; we're working on total body strengthening including their neck, and—of course—their return to sports," says Merkel.
And, if the patient is an athlete, Merkel and other members of the therapy team are adapting therapy to mimic the work they'll be doing on the field or the court.
"If they're an ice hockey player, we have them on a sliding board. For soccer, we have them kicking around the soccer ball outside. For volleyball, we're jumping," she explains. "They practice the skills they need—running, jumping, sprinting—before they get back to practice or to a game. We tailor our program to the individual athlete and adhere to the guidelines of concussion rehab."