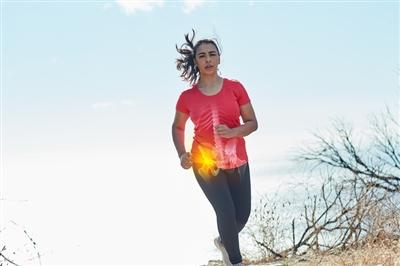 Historically, hip replacement surgery was considered for patients in their 60s and 70s, or healthy patients in their 80s. Patients in their 40s and 50s experiencing hip pain and stiffness were advised by their physicians to hold off as long as possible before opting for replacement. Today, with significant advances made in artificial joint technology, there is no need for younger patients to live with pain. Hip replacement is for everyone!
"In the past, our primary concern was the longevity of the polyethylene liner that surrounded the ball and socket in an artificial hip joint," explains David Vegari, MD, orthopaedic surgeon at Lankenau Medical Center, part of Main Line Health. "Over time, the liner would break down, and about 15 years after surgery, the patient would require extensive surgical revisions. So, for a 45-year-old patient, we would wait as long as we could before performing a hip replacement. Now, the most advanced artificial joints no longer seem to show the same polyethylene wear rates at 15-year follow-up. When we use the newest technology, combined with proper surgical technique, a new hip joint can last a lifetime."
Hip replacement surgery, first performed in 1960, is considered one of the most successful operations in medicine. According to the Agency for Healthcare Research and Quality, more than 300,000 total hip replacements are performed each year in the United States.
Symptoms indicating hip issues include pain in the groin or the side, or a noticeable stiffness after sitting. The most common reason patients need a hip replacement is arthritis—osteoarthritis, rheumatoid arthritis or post-traumatic arthritis. Additional causes include injury and dysplasia, a developmental disorder that affects the alignment of the hip joint.
"I recently performed a hip replacement on a 26-year-old patient with dysplasia," says Dr. Vegari. "The components we use today are just so much better."
This "new" technology was actually introduced 15 years ago, and the 15-year data regarding outcomes is excellent. Still, many younger people continue to hesitate.
"Despite the presence of substantial technological advancements, we are still a society that relies on word of mouth and the direct experience of a friend or neighbor," says Dr. Vegari. "Hip replacement for younger patients is slowly becoming better understood and more acceptable. Previously, the average age for a hip replacement was the mid- to late-60s. Now it's in the 50s. And more patients in their 40s are having it done."
"Previously, the average age for a hip replacement was the mid- to late-60s. Now it's in the 50s. And more patients in their 40s are having it done."
In addition to better components, the options for surgical approaches have also evolved. Dr. Vegari prefers the anterior approach, a minimally invasive procedure with entry through the front of the hip joint, rather than through the side (lateral) or back (posterior). With the anterior approach, the hip is replaced through a natural interval between muscles, leaving the gluteal muscles—the most important muscles for hip function—undisturbed.
Advancements have also been made in post-surgery protocol. Dr. Vegari calls it a "two-prong attack" to pain management and mobilization.
"Today, we're able to control the pain following surgery much more effectively, which enables us to get patients moving quickly," says Dr. Vegari. "Patients are mobilized on day one using a walker. So, there is less concern with blood clots. Within one to two weeks, patients only need a cane, and within four to six weeks, they're walking on their own. Many are able to return to work in a just couple of weeks."
With hip replacement surgery, most of the recovery process happens with the first three months following surgery, with the last 10 to 15 percent occurring by the end of the first year.
"My patients often tell me they have forgotten they even had a hip replacement," reports Dr. Vegari. "Of course, surgery is not always the right answer. Sometimes a problem can be resolved with physical therapy. Whatever the problem or solution may be, just coming in for an evaluation can change things for the better. For patients who do need to undergo hip replacement, the improvement in quality of life is dramatic."
Dr. Vegari's advice? "Age is but a number," he says. "If you are suffering from hip pain or stiffness, there is no longer any reason to wait."
Main Line Health serves patients at hospitals and health centers throughout the western suburbs of Philadelphia. To schedule an appointment with a specialist at Main Line Health, call 1.866.CALL.MLH (225.5654) or use our secure online appointment request form.