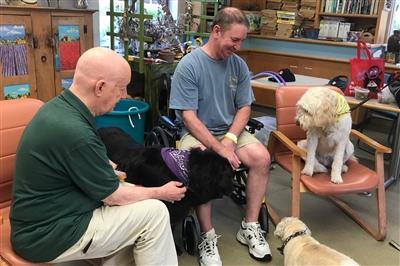 On a warm Thursday afternoon, as sunlight poured through the windows of the Bryn Mawr Rehab Hospital Horticultural Center, Fiona waited. She looked on patiently as Charlie took his time retrieving the tennis ball from the corner of the room, letting it roll between his legs before gently lifting it up and handing it back to his companion.
"Good boy Charlie."
Occupational therapist Ruth Crouthamel discreetly slipped a dried sweet potato into her hand and bent down to reward the long-haired black golden retriever. As Charlie retreated, Crouthamel motioned for Fiona to join her.
The Goldendoodle jumped down from her chair, taking her place in front of Crouthamel and the afternoon's patient, Michael. As Michael gripped the tennis ball and tossed it across the room, Fiona spun around in excitement to chase it down, eager to earn a much-coveted sweet potato.
The room watched as Fiona attempted to retrieve the tennis ball from a sea of feet underneath a crowded table. Within a few moments, she emerged triumphantly, unfazed by the cheers and laughter that awaited her. After all, Fiona had a job to do. 
"They know that they're working," Crouthamel says of Fiona and the other therapy dogs who volunteer in Bryn Mawr Rehab's pet therapy program. "These therapy sessions are fun for everyone involved in them, but the dogs know they have a job to do when they're here."
Crouthamel has been a part of the hospital's pet therapy program for more than 12 years. In that time, there have been countless studies and pieces of research that outline the benefits of animal assisted therapy—from lowering anxiety levels to improving factors like mood, respiratory rate and energy—and Crouthamel takes these into consideration when planning her therapy sessions. 
So while it may look like animal assisted therapy is simply puppy play, the activities patients complete during their time with Crouthamel is part of an overall therapy plan.
"During a patient's stay at Bryn Mawr Rehab, they're given the option to try pet therapy. For every patient who chooses to try it, I read their chart to ensure that I'm using the dogs to meet their therapeutic goals," explains Crouthamel. "I prepare so that I provide activities for patients based on what they need."
For some patients, like Michael, that can mean games of throwing and catching to refine fine motor and gross motor skills, balance and visual perception and tracking. Other common activities include brushing the dogs, tying a scarf around their neck, or picking up a small treat and accurately placing it on a long-handled wooden spoon and encouraging patients to extend their arms and reach to each dog in the group.  
These activities help with fine motor and gross motor skills, bilateral coordination, in hand manipulation of small objects, and reaching, stretching, activity tolerance, as well as visual perception and scanning.
Crouthamel says pet therapy can also help improve patients' cognitive and social skills, too. Some patients who may be enrolled in speech therapy benefit from a pet therapy visit because it allows them to work on volume and projecting their voices by instructing the dogs or talking about dogs they have had or have in their lives.   
A 2006 study published in the Journal of Rehabilitation Research & Development found that patients with stroke and aphasia initiated speech more often during animal-assisted therapy sessions than with traditional therapy sessions, and demonstrated less difficulty talking to animals than their clinician. 
While every patient's need is different, Crouthamel says that there's one thing that every patient who meets one of the therapy dogs has in common.
"Everyone smiles, no matter what, whether they are in my group or not—and that's priceless."
Currently, Bryn Mawr Rehab's pet therapy program includes dogs and horses, which are used for equestrian therapy. The roster of four-legged volunteers is extensive: There are more than 20 dogs who visit the hospital on a regular basis as part of the formal pet therapy program or just to visit patients in their rooms. During an inpatient stay, a patient's family members or caregiver can visit the hospital's front desk to request a visit from one of the pups.
"People really build a relationship with these dogs, and look out for them during their stay. Some of our patients even come back to visit after they've been discharged just to see their favorite therapy dog," says Crouthamel.