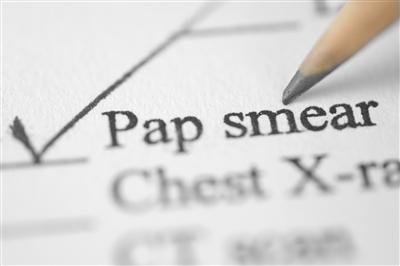 Like many women, Cynthia* is an expert at juggling a full-time job with caring for her family. Unfortunately, when it comes to taking care of her own health, she hasn't always been so vigilant. Usually, Cynthia visits her doctor only when she's "really sick"—not for preventive care. And after menopause, visits to her gynecologist seemed even less important.
"I went through menopause in my early 40s," says Cynthia, a Main Line Health employee. "And when I stopped having my periods, it was 'out of sight, out of mind.' My attitude was, 'Oh well, I'm through menopause and I stopped getting periods; I guess I'm done worrying about that. Nothing's going to happen to me.'"
Unexpected abdominal pain after menopause
Several years later, however, something did happen. In the summer of 2017, Cynthia sought medical help for pain in her back and abdomen. Her primary care doctor referred her to a pain management specialist, who ordered imaging tests. The results showed a bulging disc in her spine that was causing the discomfort radiating to her abdomen. Cynthia's pain management doctor gave her an epidural steroid injection, but it didn't help the pain much. Before he would consider a second shot, he asked Cynthia to consult with a gastroenterologist and a gynecologist to rule out other problems.
The gastroenterologist performed a colonoscopy, which was all clear. But the Pap test performed by her gynecologist was abnormal. Cynthia tested positive for a strain of human papillomavirus (HPV) that significantly raises the risk of cervical cancer. Further testing confirmed she did have cancer.
Wake-up call: Cervical cancer after menopause
"This was a rude awakening for me," Cynthia says. "The last time I'd had a Pap test and mammogram was in 2010. I only stumbled into my gynecologist's office because the pain management doctor sent me. I work in a hospital, and I have no excuse for not seeing my gynecologist or primary care doctor on a regular basis." Fortunately, cervical cancer tends to grow slowly, and Cynthia's was caught at an early stage. One of the surgeons on the Main Line Health gynecologic oncology team successfully treated Cynthia by performing a robotic-assisted radical hysterectomy.
Risk of postmenopausal health problems increases with age
Taking care of your health is important at every stage of life. Even women past their childbearing years should see their gynecologist or primary care doctor for annual wellness visits. Growing older raises the risk for gynecologic cancer, and the drop in a woman's estrogen after menopause increases her risk for certain health conditions. These include:
"Annual gynecologist visits can help women stay ahead of health problems or find them early, when they may be more treatable," says Joseph M. Gobern, MD, MBA, FACOG, chair of obstetrics and gynecology at Main Line Health. "We see these visits as a great opportunity to talk with our patients about how they can lower their health risks and maintain a healthy lifestyle. The visits should include exams, screening tests and immunizations based on the patient's age and risk factors."
Minimally invasive gynecologic surgery and advanced gynecologic care
Main Line Health specialists provide a full range of general and specialized gynecologic services for women, from yearly well-women examinations and cancer screening to highly specialized minimally invasive gynecologic procedures, including advanced laparoscopic, hysteroscopic and robotic surgery. Robotic-assisted surgery, which combines robotics and state-of-the-art computer technology, enables surgeons to operate with greater dexterity and control than is possible with traditional surgical approaches.
"The benefits of robotic-assisted surgery include a smaller incision, less blood loss, a lower risk for infection, a much shorter hospital stay and a faster return to normal activities," says David Holtz, MD, service chief of gynecologic oncology at Main Line Health. "And specific to robotic-assisted radical hysterectomy, there's also a lower incidence of bladder and bowel dysfunction. Patients usually are back to work in two weeks, compared with four to six weeks for an open abdominal procedure."
Back on track—and committed to lifelong gynecologic health
Cynthia had her robotic-assisted hysterectomy at Lankenau Medical Center and went home the next day. She's feeling great and is back full speed with her busy lifestyle. One thing is different, however: She's taking charge of her health. Cynthia is committed to seeing her primary doctor yearly and she's staying on top of all her health screenings. "I'm fortunate my cancer was caught in time," she says. "I got lucky, and I don't want to rely on luck. I want to be an advocate for my own health and take care of myself."
Next steps:
Make an appointment with Joseph M. Gobern, MD, MBA, FACOG
Learn more about Main Line Health's gynecologic oncology team
After an abnormal Pap screening, what comes next?
* Name has been changed