After ignoring chest pain for a year, Myke Neal, an independent contractor from Glen Mills, Pennsylvania, could no longer run from his symptoms. "I was 59 and, in some ways, my heart attack was a blessing in disguise," recalls Myke, now 64. "The experience opened my eyes and shifted my momentum. I stopped smoking and set a goal to complete a half marathon."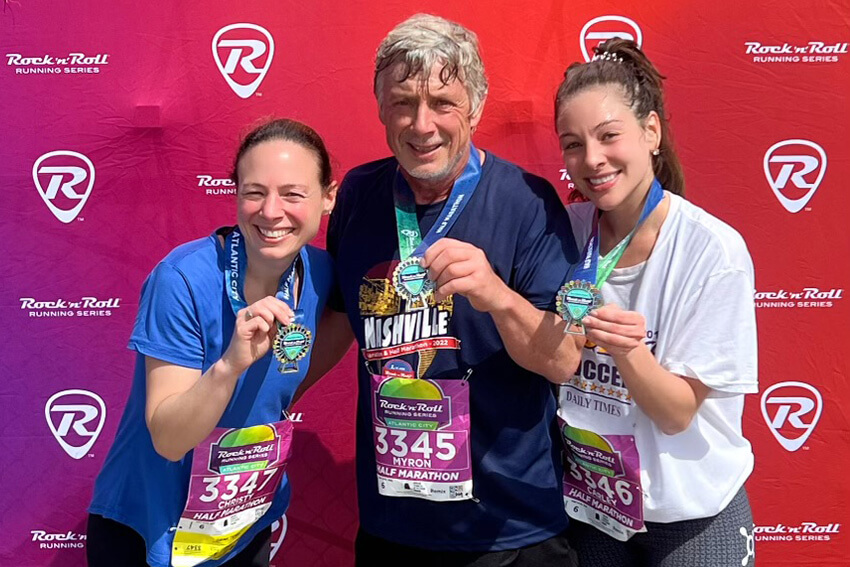 "Myke took ownership of his health and turned his energy toward exercise," says Steven Domsky, MD, Main Line Health cardiologist. "He finished his first half marathon at Walt Disney World in November 2019 after having a life-threatening event over five years ago."
"My daughters run, and we go to events together," says Myke, who has also completed the Broad Street Run in Philadelphia and half-marathons in Nashville and San Antonio with his family.
Anatomy of a heart attack
"Looking back, my father had bypass surgery at age 58," says Myke. "Yet, I smoked, had high blood pressure and high cholesterol and often missed taking medication—I was in denial of my own risk factors."
A plaque buildup had narrowed the coronary arteries to Myke's heart, leading him to experience shortness of breath and chest pain with exertion (angina) which are common symptoms of a heart attack. A heart attack occurs when one artery closes off entirely. That part of the heart muscle will die and scar until the artery is reopened, according to Dr. Domsky.
To the emergency room
In April 2017, Myke was having chest pain while installing a fence with his team. Taking a break, he dozed off in his office.
"I woke up with the worst chest pain—it went down my arm. For the first time, I had symptoms while resting," Myke says. His wife took him to Riddle Hospital's emergency department. Discovering multiple, severe blockages in the arteries leading to his heart, the team diagnosed Myke's heart attack and transferred him to Lankenau Medical Center for emergency bypass surgery.
Surviving cardiac arrest
At Lankenau, Myke's heart stopped before he reached the operating room. The team resuscitated him, but surgery was no longer an option. Instead, they took him to the cardiac catheterization lab where Eric Gnall, DO, an interventional cardiologist, threaded a long, thin tube (catheter) through a blood vessel in Myke's wrist to the blockage and propped the artery open with a tiny, mesh tube called a stent (radial catheterization). "Dr. Gnall told my family that my arteries were so small from smoking that he used the tiniest stent he had," says Myke.
Another heart attack
A few days later, Myke was hit with chest pain after a walk around the nurses' station. It was another heart attack, followed by cardiac arrest. Unlike a heart attack, caused by a lack of blood flow to the heart, cardiac arrest is when the heart stops beating due to a problem with the heart's electrical system. The team got him breathing again and Dr. Gnall reopened Myke's artery in the cath lab.
"He saved my life twice in one week," says Myke.
LifeVest® protection
After two weeks in the hospital, Myke was cleared to go home. However, his weak heart made him susceptible to a life-threatening heart arrhythmia that can lead to sudden cardiac death, so he was discharged with a wearable external defibrillator. "It's like walking around with a set of paddles," explains Myke. The LifeVest can deliver an electric pulse to restore a normal heart rhythm. It also collects information about your heart's function, which can help to guide treatment.
Starting cardiac rehabilitation
Dr. Domsky recommended that Myke complete cardiac rehabilitation at Riddle Hospital—a supervised, monitored exercise training program that provides education about heart-healthy living. "The cardiac rehab team established in my mind the importance of staying with an exercise program," says Myke, noting that his nurse tailored his exercises to move him toward his running goals.
Bypass surgery
Eight months later, Myke had triple bypass surgery to increase blood flow to his heart, performed by Roberto Rodriguez, MD, a minimally invasive cardiac surgeon at Lankenau Medical Center.
The defibrillator decision
After Myke's coronary bypass surgery, Dr. Domsky talked to him about an implantable defibrillator, but Myke had concerns.
"A defibrillator is recommended at 35% or less ejection fraction (EF), which is the percentage of blood that pumps out of your heart with each beat," says Dr. Domsky. "Myke's EF was so close, we decided to give it time. Myke completed cardiac rehab post-surgery. He built his endurance slowly and safely while continuing to take his heart medication and his EF improved so he did not require a device."
"I couldn't have a better team than I do at Main Line Health," says Myke. "They support me in every possible way. I'll always have limitations, but I do everything now that I did before, including carrying lumber and running a jackhammer.
The pace of life
Myke says that training for a half marathon motivates him to stay healthy. "My wife and I maintain a good diet. We raise and grow much of our food. I used to pick up cheesesteaks or hoagies while out, but I don't do that anymore."
"I feel God has given me a second chance by putting people in place who saved my life," says Myke. "You never know what tomorrow will bring, but I do know I have good doctors."
Call 911 for heart attack symptoms
If you are having concerning signs of a heart attack, don't delay care. Call 911. Learn more about the warning signs of a heart attack.
Staying on top of your heart care
Prioritize your healthy behaviors and annual appointments with a primary care provider and/or cardiologist to proactively manage your risk for heart disease.
Main Line Health serves patients at hospitals and health centers throughout the western suburbs of Philadelphia. To schedule an appointment with a specialist at Main Line Health, find a provider online or 1.866.CALL.MLH (225.5654).