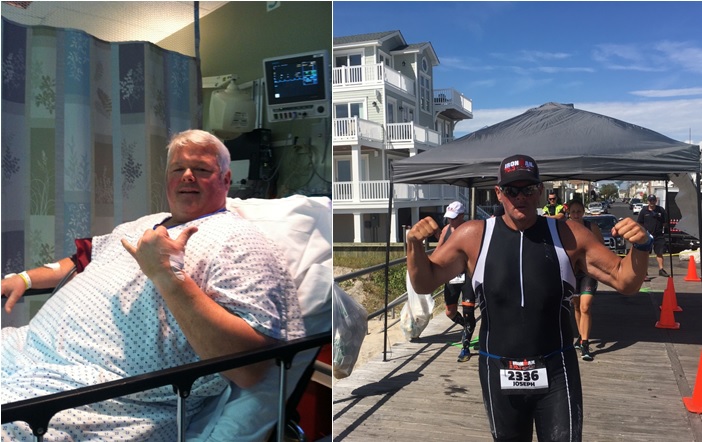 Watching Joe Peterson compete in a triathlon, you might not suspect that he once described himself as a "heart attack waiting to happen." But it was only three years ago that Peterson was depressed and dangerously overweight, having recently overcome an addiction to alcohol.
Peterson knew that once he had conquered his alcohol addiction, it was time to address his addiction to food. Still, despite a better diet and trips to the gym, Peterson couldn't get the scale to budge past 364 pounds. At an appointment with his primary care physician, the two discussed the possibility of weight loss surgery. Peterson's physician recommended Richard Ing, MD, medical director of the Bariatric Program at Bryn Mawr Hospital, part of Main Line Health.
Although he was excited at the prospect of a long-term solution, Peterson was nervous.
"When I came home from my first appointment with Dr. Ing, I was afraid and still unsure of whether or not I wanted the surgery," he says. "You go online, you watch some videos, and you start to freak yourself out a little bit…but in the end I decided it was the right option for me and I trusted Dr. Ing."
On February 4, 2014, Peterson headed to Bryn Mawr Hospital for his procedure—a vertical sleeve gastrectomy. At the time, the Philadelphia region was preparing for the arrival of a major ice storm, but nothing could stop him from the life-changing decision he had committed to.
"I was miserable. It was an effort to get out of bed. The cycle of poor habits and my lack of confidence had to stop and this was the answer," Peterson recalls.
The vertical sleeve gastrectomy, often referred to as the gastric sleeve, wouldn't just help Peterson control his hunger—it would also help him control his blood sugar and feel fuller longer.
"The gastric sleeve procedure involves removing two-thirds of the stomach. The space in the stomach that's left after surgery is a pouch that resembles the shape of a banana, and it holds a much smaller amount of food than a normal stomach can," explains Dr. Ing. "Other types of bariatric surgery—like gastric bypass—can also restrict food intake, but they require the movement of the small intestine. The gastric sleeve doesn't require this additional step, but offers similar benefits."
Peterson began to notice the benefits almost immediately. Once he had been medically cleared to begin exercising, Peterson watched the weight begin falling off.
"Dr. Ing told me what I would have to do after surgery. He explained to me what my diet and exercise plan would have to be. I continuously lost weight because I followed directions," he says.
As Peterson watched the weight continue to disappear, he began to set his sights on a new goal: a marathon. He continued his training and, within the first two years of his surgery, he had completed a marathon, four sprint triathlons, and a half-Ironman race. While he was conquering finish lines and collecting medals, Peterson says the ultimate reward has been his health.
"It's really neat. It's a whole new life, and I would never want to go back to my old life. I have no desire to eat the way that I used to eat. Your whole world changes after surgery," he says.
Peterson continues using his story to motivate others. As a school safety officer, students, colleagues, parents, and others have witnesses his dramatic physical transformation.
"I come into school and I use my story to show the kids, 'Look, you can do anything.'"
He's also using his story to motivate other individuals about the topic of bariatric surgery. In fall 2016, Peterson returned to Bryn Mawr Hospital to talk about his experience with other patients who are considering weight loss surgery.
"Coming to tell my story to others is pretty great," says Peterson. "My care at Bryn Mawr Hospital was amazing. I couldn't have asked for anything better—the team was so accommodating. They answered every question I had, and quickly, too."
What's up next for Peterson? He'll be taking a well-deserved break from racing for the fall and winter months but has plans on seeing Hawaii in 2017—for an Ironman race, of course.
To explore whether bariatric surgery is right for you, register for a free bariatric information session where you'll meet bariatric surgeon Richard D. Ing, MD.
For more information or to schedule a consultation, call 484.476.6230.