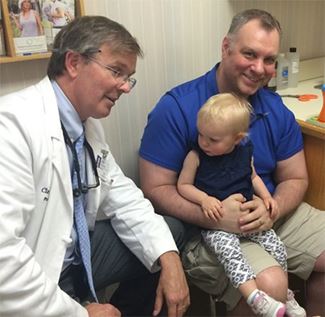 A particularly damaging mid-summer storm had left the Lehman family without electricity at their home in Swarthmore for a couple of days. Looking for a break in the midst of hot, humid June weather, they decided to visit family nearby who hadn't been as affected by the storm.
While her parents were thrilled to have electricity, 18-month-old Fiona was thrilled to see her grandparents and their dog.
"Overwhelmed with excitement, Fiona tripped while running full-speed around their house and dove into a bookshelf," recalls mom, Stephanie. "She does that sort of thing all of the time, so we didn't panic until we saw blood streaming down her face."
Though Stephanie admits Fiona is an active toddler and 'no stranger' to small injuries, she was alarmed, as this one was far worse than usual. Fortunately, Stephanie was in good company for Fiona's first major accident.
"My father is a retired family physician and it was such a relief for him to be there; he gave me guidance in terms of next steps. He took one look and said she needed stitches, and to have a plastic surgeon do it," she says.
The family took Fiona to Bryn Mawr Hospital, home to a dedicated pediatric emergency department staffed by Nemours physicians. Children who are treated at the hospital's emergency department have access to pediatric surgeons 24/7, and other Nemours specialists are available for consultation, if necessary.
Fiona was taken back for treatment quickly, and the staff arranged for her to be seen by R. Brannon Claytor, MD, a plastic surgeon at Bryn Mawr Hospital and system chief of plastic surgery at Main Line Health.
"I've heard miserable stories of people having to wait in the ER for hours or getting rushed care, but we didn't have to wait long at all, and we got in to see Dr. Claytor. It was a huge relief," says Stephanie.
Despite not being a full-time pediatric plastic surgeon, Dr. Claytor says that he spent plenty of time in the pediatric emergency department in July caring for injuries like Fiona's.
"Fiona's scar was on her forehead, which is a very common place for an injury for children of that age," he explains. "During the week of Fiona's visit, I saw at least three or four patients with similar injuries. Summer is a busy time for pediatric injuries."
For Fiona, a scar didn't keep her down long. After just two hours in the emergency department and a few stitches, she was back home. She continues to visit Dr. Claytor for follow up visits, and is healing nicely thanks to a little self-care.
"Dr. Claytor told us it would help heal the area if we massaged it periodically, what Fiona now refers to as 'boo-boo-sages'," says Stephanie. "Dr. Claytor has been very reassuring and great with us throughout the whole process."
Bryn Mawr Hospital is one of only a few community hospitals with a dedicated pediatric emergency department. Through a partnership with Nemours/Alfred I. duPont Hospital for Children, Bryn Mawr Hospital offers access to pediatric surgeons 24 hours a day, seven days a week, with Nemours specialists available for consultation.