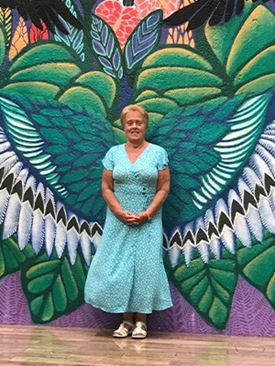 At age 62, Diane Laskowski felt perfectly healthy. She loved her job as a third-grade teaching assistant and enjoyed walking and traveling. She was rarely sick and didn't go to the doctor regularly. But then her right big toe turned purple.
Diane consulted a podiatrist, who told her to keep it warm. About a year passed, and the toe was easy enough to ignore.
In the spring of 2022, however, Diane began to notice nagging pain in her toe that would come and go. Her family finally persuaded her to see her family physician. That's when Diane learned that the painful, purple toe was a sign of a much bigger issue.
Peripheral artery disease diagnosis
"The first thing the doctor noticed was that my blood pressure was sky high," Diane says. "He told me I needed to go directly to the hospital because I could have a stroke at any moment."
At Riddle Hospital, emergency room physicians started Diane on blood pressure medications and ran a series of imaging tests of her vascular system, the body's network of blood vessels.
She was then referred to Henry Hirsch, MD, a vascular surgeon at Main Line HealthCare Vascular Specialists. Dr. Hirsch performed follow-up tests that revealed peripheral artery disease (PAD). This occurs when blood vessels in the legs become clogged and narrowed by fatty deposits or plaques, resulting in decreased blood flow (PAD is also referred to as peripheral vascular disease, or PVD). A significant stenosis, or narrowing, in Diane's common femoral artery had resulted in her purple toe.
Treatment for PAD
Suddenly, Diane, who had never had surgery, was facing a major procedure. Dr. Hirsch explained that although PAD can sometimes be addressed through catheter-based minimally invasive procedures, the better option in her case would be a femoral endarterectomy. This is a more complex surgery that would involve cutting into the artery, removing the plaque and reconstructing the blood vessel.
"Diane's stenosis was in a location where there are a lot of internal forces and pressures at work," Dr. Hirsch says. "An endarterectomy would give the artery better long-term strength and durability."
Diane says she was "scared to death" of the prospect of surgery. "But Dr. Hirsch explained everything," she adds. "I loved his patience and his personality."
Excellent outcome
Diane underwent the femoral endarterectomy at Riddle Hospital in April 2022. Almost immediately after waking up from anesthesia, she noticed that her toe felt and looked better.
"I was able to leave the next day, and I was back at work within a week," she says. "The whole experience was phenomenal."
Today, Diane has resumed her active lifestyle, with a few key changes: She takes blood pressure and cholesterol medications, she has regular follow-up appointments with Dr. Hirsch, her family physician and a cardiologist and she's stopped indulging in occasional smoking.
"This was the thing that got me to quit for good," she says. "Life is too short."
Seeing possible signs of PAD?
Main Line Health offers the latest treatment options for vascular conditions, including PAD, deep vein thrombosis and carotid artery and venous disease. To schedule a consultation with a vascular specialist, find a provider online or call 1.866.CALL.MLH (225.5654).