When Alex Knight, 30, walked down the aisle and danced with his bride, Ryann, at his wedding in April 2021, it wasn't just a milestone. It was a triumph.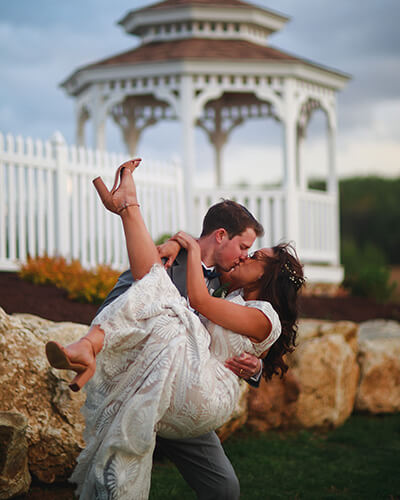 Alex had been on his way home from work in May 2020 when he lost control of his car.
"I hit a couple of trees, veered into an oncoming car, and ended up backward and upside down, with the car on fire," he says.
Quick action by witnesses and a near-immediate response by emergency crews saved his life, but it still took nearly 45 minutes to extract him from the wreckage.
Triage teamwork
At Lankenau Medical Center, a trauma team swung into action to assess Alex's injuries, which included fractures in his neck, ribs, pelvis, thigh, kneecap, knee joint, wrist and ankle; bleeding in his lungs and brain and other organ and soft tissue injuries.
For orthopaedic surgeon Mitesh Shah, MD, the first priority was stabilizing Alex enough to undergo the numerous procedures that would be required to essentially rebuild his skeleton.
"While Alex was in the ICU, we put external frames on his legs and kept him in traction to keep everything in place until his vital signs normalized," Dr. Shah says. "We created a priority list of his injuries and started addressing them, one by one."
Working with a team of two orthopaedic residents, an anesthesiologist and specialty orthopaedic nurses, Dr. Shah reset Alex's thighbone, stabilized the fractures in his kneecap and cleaned out his wounds, which took nearly eight hours.
A few days later, during another five-hour procedure, the team rebuilt his hip socket, reassembling the bones like puzzle pieces. A subsequent four-hour surgery addressed the remaining fractures in his right knee, ankle and foot.
The healing begins
Alex was unconscious for nearly three weeks after the accident, and Dr. Shah and the Lankenau Medical Center staff did their best to communicate with his family, who couldn't visit due to COVID-19 protocols. When he awoke in mid-May, he had no memory of the accident.
"I woke up and thought, 'Where am I?'" Alex says.
More surgery and weeks of inpatient therapy at Bryn Mawr Rehab Hospital followed.
"When I went to rehab, I couldn't even sit up," he says. But every day, he made progress, rebuilding his core strength and gradually moving from a wheelchair to a cane.
A time to celebrate
On September 2, with Ryann and his mother by his side, Alex walked out of Bryn Mawr Rehab and went home. Months of outpatient therapy followed. Recovery was grueling at times, but all the hard work led to the joyous April wedding and a memorable first dance that ended with Alex lifting his new wife in his arms.
After his final surgery with Dr. Shah in November 2021, Alex and Ryann brought wedding pictures to the follow-up appointment.
"It was incredibly rewarding to see that," Dr. Shah says.
Today, Alex has made a full recovery.
"I'm able to live without limitations," he says. "I'm so grateful to everyone, from the emergency responders to my therapists to Dr. Shah and his team, for putting me back together again."
Next steps:
Make an appointment with Mitesh Shah, MD
Learn about orthopaedic surgery at Main Line Health