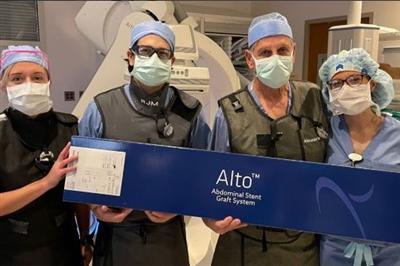 Lankenau Medical Center, part of Main Line Health's Lankenau Heart Institute, became the first hospital in the state of Pennsylvania to implant the ALTO® Abdominal Stent Graft System, a new treatment for abdominal aortic aneurysm. Vascular surgeon Robert J. Meisner, MD, FACS performed the implant.
The ALTO Abdominal Stent Graft System is a minimally-invasive treatment option for abdominal aortic aneurysm (AAA). While minimally invasive treatments have long been available for the treatment of AAA, the ALTO system is unique because of its design—the size of the implant allows surgeons to treat patients with small vessels and challenging access, and an integrated balloon feature makes for an easier seal and long-term durability. As a result, minimally invasive AAA treatment is available to a broader range of patients.
"To be the first in the state to offer this treatment to our patients is exciting. The ALTO has a superior design that makes it a preferable option for providers but its most important feature is that it offers improved outcomes and allows us to improve the quality of life and survival rate for more patients than ever before," says Dr. Meisner.
The aorta is the body's main artery, carrying blood from the heart to the rest of the body. Abdominal aortic aneurysm is an enlarged and weakened section, or "ballooning" of the aorta below the renal arteries that may require treatment to prevent it from bursting and causing serious internal bleeding. Abdominal aortic aneurysms often grow slowly with few—if any—symptoms and are more common among men age 65 and over, as well as people with a history of smoking or tobacco use. Depending on your personal health history, you may be eligible for an AAA screening.
Featuring a unique sealing technology, ALTO is the latest generation of low-profile polymer-based therapies for AAA treatment, offered exclusively by the Endologix Corporation. Endologix Inc. develops and manufactures minimally invasive treatments for aortic disorders. Additional information about the company can be found at www.endologix.com. 
Lankenau Heart Institute offers a range of diagnostic and treatment options for AAA. Learn more or make an appointment with a vascular specialist.