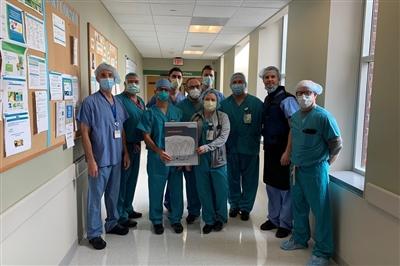 This week, Main Line Health became the first health system in the Philadelphia region to offer the WATCHMAN FLX Left Atrial Appendage Closure Implant. The WATCHMAN FLX implant is currently the only FDA-approved implant proven to reduce stroke in patients with atrial fibrillation not caused by a heart valve problem.
Electrophysiologist Sheetal Chandhok, MD, assisted by William Gray, MD, performed the first WATCHMAN FLX implant at Bryn Mawr Hospital, part of Main Line Health's Lankenau Heart Institute.
"Lankenau Heart Institute is committed to providing safe, compassionate, clinically advanced cardiac care to our patients. The opportunity to pilot innovative solutions like the WATCHMAN FLX is critical to helping us achieve this, and we are honored to have been the first in the Philadelphia region to implant this device," said Dr. Gray, System Chief of Cardiovascular Disease at Main Line Health, who has been involved with research in this approach for almost 20 years.
Up to six million Americans are affected by atrial fibrillation (AF) – an irregular heartbeat that feels like a quivering heart. People with AF may be at greater risk for stroke than those with normal heart rhythms. Traditionally, blood thinners have been used as a method of treatment to reduce stroke risk in patients with AF. However, long-term blood thinner use can lead to increased bleeding risk, even as a result of small wounds. 
The WATCHMAN FLX implant is an alternative to blood thinners. The implant works by closing off an area of the heart called the left atrial appendage (LAA) to keep harmful blood clots that can form in the LAA from entering the blood stream and potentially causing a stroke. By closing off the LAA, the risk of stroke may be reduced and, over time, patients may be able to stop taking blood thinners.
Dr. Chandhok at Bryn Mawr Hospital was the first in Pennsylvania to implant the WATCHMAN LAAC in 2015, an earlier version of the implant. WATCHMAN FLX, the newest version of the implant, has an updated design to help treat more patients safely and effectively to ensure the best long-term outcomes. 
"Many patients with atrial fibrillation have concerns about the long-term risks of blood thinners, but also don't want to forego this medication because they know it is a critical part of managing their stroke risk," says Dr. Chandhok. "The WATCHMAN FLX implant is an alternative that offers our patients peace of mind and a better quality of life."
Implanting the WATCHMAN Device is a one-time procedure that usually lasts about an hour. Following the procedure, patients typically need to stay in the hospital for 24 hours. The WATCHMAN Implant has been approved in Europe since 2005 and is FDA-approved in the United States. It has been implanted in more than 110,000 patients and is approved in more than 70 countries around the world.