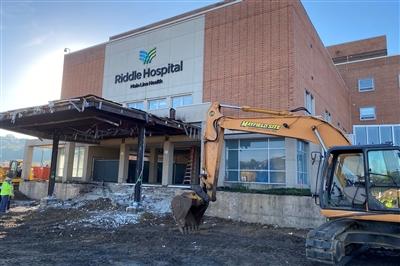 Riddle Hospital, part of Main Line Health, hosted a groundbreaking ceremony today for its campus modernization project, a $327 million project that will include a new patient pavilion, as well as renovations to existing care units and support areas.
"When Riddle Hospital was founded in 1963, it was with the mission of Samuel Riddle in mind: to provide compassionate, comprehensive care to the people of Delaware County. Now, more than 50 years later, we prepare to enter a new chapter in Riddle's storied history. This campus modernization project signifies our ongoing commitment to Mr. Riddle's vision—caring for our community in a facility that matches the level of clinically expert, compassionate, human care our patients have come to expect and deserve," says Shelly Buck, president of Riddle Hospital.
Riddle's campus modernization project will occur in two phases. The first phase, expected to be completed in summer of 2023, will include the construction of a 230,000 square foot, five-story Patient Pavilion featuring:
76 acuity-adaptable private patient rooms
An operating room suite with 10 operating rooms and three procedure rooms
The relocation of the Riddle Birthplace to five labor & delivery suites, 16 postpartum rooms, two C-section suites and a Level II NICU
A dedicated physical therapy gym
Radiology and laboratory services
Registration and pre-admission testing
A cafeteria and atrium café
The second and final phase, which will be completed in summer of 2024, will include a renovation of the hospital's Intensive Care Unit. Upon its completion in 2024, the hospital will be equipped with all private patient rooms, contemporary facilities and advanced technology to support the evolving needs of the community.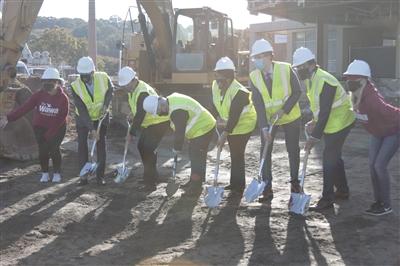 Attendance was limited at today's event, but members of Wawa, Inc. and The Wawa Foundation were present to demonstrate their longstanding partnership with Riddle Hospital. The Wawa Foundation pledged $2.2 million to support Riddle's campus modernization project—the largest gift to this campaign from an individual benefactor.
Since Riddle Hospital opened in 1963, Wawa and The Wawa Foundation has been a generous benefactor of the hospital. In the past, their support has allowed Riddle the opportunity to make a number of capital investments, including previous renovations of the Riddle Hospital Birthplace and emergency department, as well as the purchase of four-wheel drive, all-weather ambulance for use by the Riddle Hospital EMS team.
"It's an honor to continue supporting Riddle Hospital of Main Line Health Hospital, as they embark on this exciting expansion to provide exceptional care to more friends and neighbors in Delaware County," said Alex Costabile, Vice President of Strategy, Wawa, Inc. "Whether it's helping fund to support a project like this, or welcoming their healthcare heroes into our store across from the hospital, our partners at Riddle can always count on Wawa."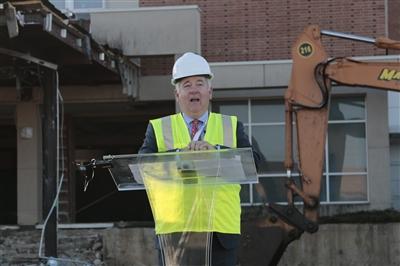 "Since Grahame Wood first joined the board of Riddle Hospital 50 years ago, Main Line Health has been very fortunate to call Wawa a partner and a neighbor. We are humbled and incredibly grateful for this investment in our future, and look forward to honoring this generous gift with a spirit of service that is innate to the Riddle and Wawa legacies," said Jack Lynch, President & CEO of Main Line Health.
Addressing the attendees at the event were: Jack Lynch, President & CEO of Main Line Health; Shelly Buck, President of Riddle Hospital; Don Saleski, Chair of the Riddle Hospital Foundation Board; Rich Wood, Director of Government Affairs & Sustainability, Wawa, Inc.; Jay Culotta, Treasurer, Wawa, Inc. and President of The Wawa Foundation; and Alex Costabile, Vice President of Strategy, Wawa, Inc.