Thirteen Southeastern Pennsylvania hospitals and health systems recently announced a collective commitment to combat racism, inequality and discrimination in all its forms. The partnership will ensure that healthcare organizations across the region are aligned in fostering a diverse,equitable environment and addressing healthcare disparities.
Over the past several weeks, protests and calls for racial justice and equality have intensified following the tragic murders of George Floyd, Breonna Taylor, Rayshard Brooks, Ahmaud Arbery and Elijah McClain.Recognizing the responsibility that hospitals have for the safety and health of their community, healthcare leaders across the country are heeding the call to eradicate racism and evaluate the role that systemic racism has had in the healthcare industry.
"Racism is a healthcare issue. We cannot address socioeconomic factors that are barriers to healthcare access—like trust in healthcare providers, income, transportation, education and housing—without acknowledging that systemic racism has caused these issues to be more prevalent in communities of color. If we are truly committed to the health of our patients and neighbors, we must work together to ensure that no one is overlooked, dismissed or undeserved simply because of the color of their skin," the group said in its letter of commitment.
"Racism is a public health issue. This collective partnership is not just about doing the right thing; it is about understanding how systemic racism has prevented communities of color from accessing the care they need and ensuring that we put processes and policies in place to prevent that from continuing," says Jack Lynch, FACHE, President & CEO of Main Line Health.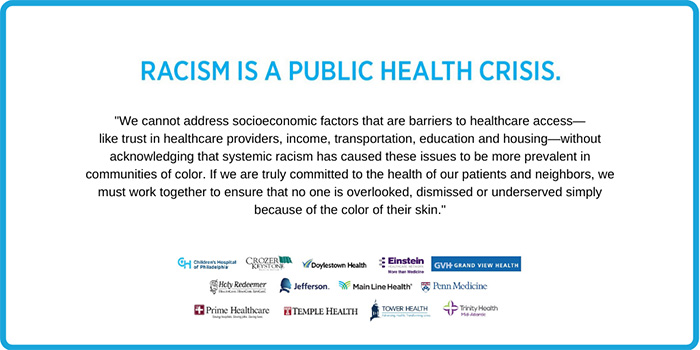 The collaboration is the latest in Main Line Health's ongoing commitment to Diversity,Respect & Inclusion, an initiative that was formally launched in 2012. In the years since, the health system has made several efforts to advance diversity training and education, including mandating diversity education for all employees, launching the Center for Population Health & Research, and hosting the annual Healthcare Disparities Colloquium, a showcase of the population health efforts and research underway across Main Line Health.
"I am incredibly proud of the work that the Main Line Health team has done so far to make our hospitals a safe, welcoming and respectful place for our employees and patients, but there is still work to do.The collective strength of our health systems will allow us to improve health care access and demonstrate to the residents of Philadelphia and its suburbs that they will be seen, heard and—above all—cared for regardless of race,gender identity, sexual orientation, age or any other factor," says Lynch. 
As a healthcare destination for patients across the world,Philadelphia has a longstanding reputation for being on the cutting edge of medical research, innovation and education. Still, health indicators demonstrate that there is still more work to do to serve neighbors and patients right here in our city. A 2019 Health of the City report found that health issues like childhood asthma, heart disease, hypertension, and HIV were far more prevalent in Philadelphia than in other major US cities. 
By pledging their support to this commitment, participating hospitals and health systems have agreed to address these health disparities.Additionally, each participant has committed to fostering diverse, inclusive environments by hiring and promoting leaders of color, establishing relationships with community partners to address chronic health conditions,improving access to primary and specialty care, and increasing the collection of data to understand—and ultimately better meet— the health needs of our patients and community.
Read the letter of commitment and view a full list of participating organizations.