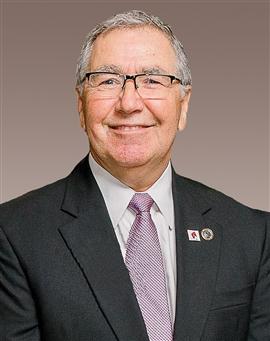 In 1963, when Samuel Riddle, a noted sportsman and Delaware County native, left in trust the land and financial support to build a hospital to serve his community, our mission began.
Riddle Hospital embodies Mr. Riddle's legacy, providing the services and health care our community needs to take charge of their health and make the right decisions for themselves and their families. We are here when you need us.
We are setting the bar higher. Our superior care has been recognized by The Joint Commission for Key Quality Measures for three years in a row. The Joint Commission has also recognized us with the Gold Seal of Approval for hip and knee replacements, and as a Certified Stroke Center. The Society of Cardiovascular Patient Care has certified Riddle as a Chest Pain Center, while our Comprehensive Breast Center has been recognized by the National Accreditation Program of Breast Centers.
In the Fall of 2014, we opened our expanded Emergency Department (ED) to serve the needs of our community. Set in double the space of our old ED, the new department features all private treatment rooms and a Rapid Evaluation Unit for faster treatment of less serious injuries.
Riddle continues to be on the leading edge of patient care. As we have for our entire history, Riddle Hospital aims to provide excellent cardiology, orthopedic and oncology services to the community. As part of the Lankenau Heart Institute, we provide patients a comprehensive continuum of heart care, from routine through advanced life saving procedures. And we partner with the area's leading organizations to enhance our care right here in Media. This includes services of the Rothman Institute for Orthopaedics and oncology services through a partnership with Jefferson University Hospital.
And, as part of Main Line Health, we can offer a wide range of care beyond our backyard through our strong partnerships with Lankenau, Bryn Mawr, Paoli and Bryn Mawr Rehab hospitals, as well as Mirmont Treatment Center. Through this collaboration, Riddle Hospital and Main Line Health can meet the health care needs and improve the quality of life in the communities we serve.
Riddle's commitment to the health care of our community carries on through our maternity care and a Level 2 NICU at The Birthplace; advanced imaging and lab services; a variety of rehab services and a fully-equipped fitness center in Health Center 4—and many more outpatient services.
We thank you for choosing Riddle Hospital as we continue our promise to provide a superior patient experience through a culture of excellence among our physicians, nurses, staff and volunteers.
And we do this every day.
Sincerely,
Gary L. Perecko
President, Riddle Hospital