Message from the Program Director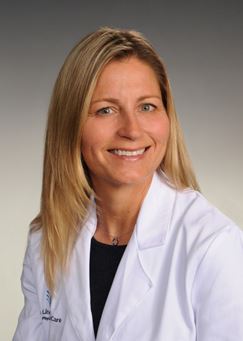 Terri W. McHugh, DO, Program Director
Thank you for your interest in the hematology oncology fellowship at Lankenau Medical center. Our curriculum and education opportunities provide a supervised training experience affording fellows the opportunity to acquire competency as a specialist in the combined fields of hematology and medical oncology. The fellows gain a broad exposure to hematologic and oncologic problems that include a diverse patient population and follow their own panel of patients throughout their training with attending supervision in the continuity clinic. Research is a requirement of the fellowship and our fellows participate in ongoing research on campus or through the clinical trials department.
Medical Degree: Philadelphia College of Osteopathic Medicine
Residency: Abington Memorial Hospital
Fellowship: Lankenau Medical Center Hematology and Oncology Fellowship
Dr. Terri McHugh is a board-certified medical oncologist and hematologist and the Program Director of the Hematology/Oncology Fellowship at Lankenau Medical Center. She strives to train outstanding clinicians with a supervised training experience at the level required for the fellows to acquire competency in the combined fields of hematology and medical oncology.
In addition to Dr. McHugh's contributions to the fellowship program, she is the Medical Director of the Genetics and Risk Assessment Program. Dr. McHugh bridges cancer care and prevention by working with both affected and at-risk individuals. She is dedicated to educating patients and their families with inherited cancer syndromes about high-risk screening guidelines and proactive steps that can be taken for early detection and prevention. Furthermore, advances in the understanding of genes and cancer have led to the development of novel agents for treatment, which may impact decisions regarding cancer therapy. In both positions, Dr. McHugh is actively engaged in research and academia.
Medical Degree: Heinrich-Heine University, Düsseldorf, Germany
Residency: The Reading Hospital and Medical Center, Internal Medicine
Fellowship: Lankenau Hospital and Medical Center Hematology and Oncology Fellowship
Dr. Arezoo Ghaneie is board certified in medical oncology, hematology, and internal medicine and serves as the Associate Program Director for the Hematology Oncology Fellowship program at Lankenau Medical Center. As a strong proponent of academics and research with multiple publications on ovarian and breast cancer, Dr. Ghaneie is an active leader in her field, delivering lectures and providing mentorships. Dr. Ghaneie is an associate member of the American Society of Clinical Oncology, the American Society of Hematology, the American College of Physicians, and the American Medical Association.
Medical Degree: King Edward Medical College, University of the Pu
Residency: Mount Sinai School of Medicine of New York
Fellowship: Lankenau Medical Center Hematology and Oncology Fellowship
Medical Degree: MD-PhD Yale University
Residency: Brigham and Women's Hospital, Boston, MA
Fellowship: Dana Farber/Partners Cancer Care, Boston, MA, Whitehead Institute for Biomedical Research, Cambridge, MA
Dr. Scott Dessain is the Professor and The Joseph and Ray Gordon Chair in Clinical Oncology and Research, Director, Center for Human Antibody Technical with Lankenau Institute for Medical Research (LIMR). Additionally, he serves as a Core Faculty member with the Hematology Oncology Fellowship, and as a Preceptor in the Fellows' Continuity Clinic. Dr. Dessain leads the Basic Science curriculum that focuses on the pathophysiology of the disease and how it informs clinical management. Through his lectures Fellows make connections between the molecules/pathways to build a unified understanding of how cancer cells become what they are and how to treat and diagnose them.
His current research initiatives include identifying antibody patterns in patients who've recovered from COVID-19 and developing novel approaches to accelerate antibody discovery and optimization for immunotherapies that facilitate precision medicine for cancer treatment.
Tracey Evans, MD
Medical Degree: University of Pennsylvania
Residency: Brigham & Women's Hospital, Boston, MA
Fellowship: Dana-Farber/Partners Cancer Care, Boston, MA
The chief area of Dr. Evans' clinical expertise is diagnosis and treatment of thoracic malignancies. She is highly experienced in multidisciplinary management of both small and non-small cell lung cancer in patients with or without a smoking history, with extensive knowledge about the use of traditional cytotoxic chemotherapies, oral targeted medical therapies, and immunotherapy. She pays particular attention to the management of disease and treatment-related complications to ensure optimal treatment intensity and patient quality of life. She also has expertise in the treatment of thymic malignancies and well-differentiated neuroendocrine tumors of the lung.
Medical Degree: Jefferson Medical College
Residency: New England Deaconess Hospital, Boston, MA
Fellowship: Thomas Jefferson University
Dr. Paul Gilman is Chief of the Division of Hematology Oncology for Main Line Health System. A significant portion of Dr. Gilman's career has been, and continues to be, devoted to clinical cancer research and developing interactions with basic researchers to promote translational research across the health system. He serves as Director of the Clinical Research Center at the Lankenau Institute for Medical Research that oversees and supports all clinical research efforts for the Main Line Health System. For more than 15 years, Dr. Gilman served as the Principal Investigator for the Main Line Health Community Clinical Oncology Program. He also continues his role as Investigator for the NCI Community Oncology Research Program and chairs the Cancer Clinical Trials Research Review Committee, created to evaluate, and prioritize studies to assure Main Line Health System's ability to successfully carry out clinical trials. Prior to February 2019, Dr. Gilman maintained an active clinical practice in Hematology-Oncology with a focus on breast cancer.
For more details on all Main Line Health System cancer research, view the Cancer Care Inaugural Report.
Jessica Katz, MD, PhD
Medical Degree: MD-PhD Albert Einstein College of Medicine, Bronx, New York
Residency: New York University Hospital and Bellevue Hospital Medical Center
Fellowship: Lankenau Medical Center Hematology and Oncology Fellowship
Medical Degree: Temple University
Residency: Mount Sinai University Hospital, Lankenau Medical Center
Fellowship: Lankenau Medical Center Hematology and Oncology Fellowship
Medical Degree: Medical College of Pennsylvania & Hahnemann University School of Medicine
Residency: University of North Carolina at Chapel Hill
Fellowship: University of North Carolina at Chapel Hill