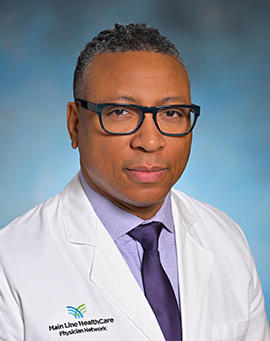 I see myself as both a physician who treats cancer and a healer. I believe it is not enough to only treat a patient's cancer. It is important to treat the patient's soul and spirit as well. Yes, we have amazing medicines and advanced technology to help fight cancer. But the heart of the matter is we need to treat the whole person—body, soul, and spirit. I try to see the humanity in everyone. I never forget that patients with cancer are people dealing with a devastating illness, who deserve compassion and empathy. I don't want to give false hope, but I strive to give patients hope of living a fulfilling life for as long as possible.
View Provider Bio
Locations
1

100 East Lancaster Avenue

Lankenau Medical Center, Cancer Center, Suite B20
Wynnewood, PA 19096
Deric C. Savior, MD,
Dr. Savior is a medical oncologist and the co-director of Main Line Health Cancer Care—the comprehensive cancer program at Main Line Health. He also is chief of medical oncology at Lankenau Medical Center. As a medical oncologist, Dr. Savior specializes in using medicine to destroy cancer cells or to stop them from growing and spreading. This often is a key step in multidisciplinary treatment of cancer. Thanks to dramatic advances in medical oncology, many medicines are now available to destroy or stop cancer. While these new medicines work in different ways, they all allow a more personalized approach to treating cancer than has been possible with standard chemotherapy alone. Dr. Savior has experience using all types of cancer medicines, old and new. As a clinical researcher, he also has experience using new cancer medicines that are still being tested to see how well they work. Although trained to treat all types of cancer, Dr. Savior specializes in treating lung cancer as well as head and neck cancer. Head and neck cancer includes cancers of the mouth, nose, sinuses, throat, and salivary glands. A Philadelphia native, Dr. Savior completed an undergraduate degree at Hampton University in Virginia before returning to Philadelphia to pursue his education and training in medicine. After receiving a medical degree from MCP Hahnemann University School of Medicine, he initially pursued training in physical medicine and rehabilitation. He then had a strong calling to care for patients with cancer after his father was diagnosed with the disease. Redirecting his focus to cancer care, he completed a required residency in internal medicine at Graduate Hospital followed by a fellowship in hematology and medical oncology at Lankenau Medical Center. Dr. Savior entered clinical practice in 2009 and, prior to joining the medical staff of Main Line Health, was Head of Medical Oncology at Fox Chase Cancer Center at Temple University Hospital. He also was an active member of the faculty at Temple University School of Medicine, with a strong focus on ensuring that all patients, particularly the sickest patients from the local underserved community, had access to and received high quality cancer care. That commitment continues to be a guiding principle of Dr. Savior's clinical practice.
Gender:

Male

Languages:

English
*Members of the Main Line Health medical staff are affiliated with Bryn Mawr Hospital, Lankenau Medical Center, Paoli Hospital and Riddle Hospital. Membership on the medical staff of any of our hospitals does not constitute an employment or agency relationship.
Awards & Memberships
Philadelphia Magazine Top Doc - 2023
Patient Reviews
loading...
---
loading...
---
loading...
loading...