We all know the importance of taking care of our hearts. And with the help of wearable devices, we now have even more tools at our disposal to keep an eye on our heart health. These devices can track our heart rate, detect any irregularities and alert us if something is wrong. By having the information these devices provide, we can make better lifestyle choices that can help us stay healthy and prevent heart-related problems.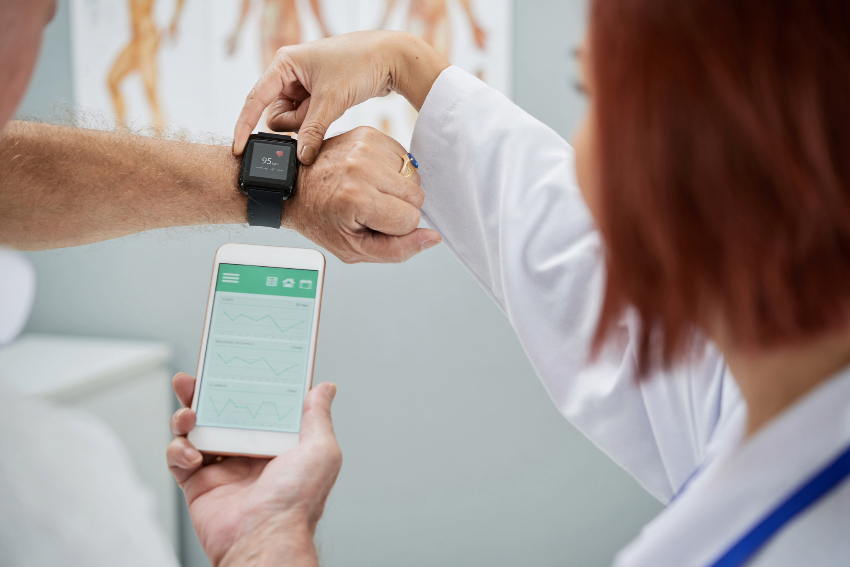 Let's look at the benefits of using wearables to monitor your heart health, so that you can make an informed decision about which device is right for you.
Overview of heart health monitoring wearables
Tracking your heart health is essential for staying healthy, and wearable devices make it easier than ever. Wearable technology is becoming increasingly popular for tracking heart rate, blood pressure and other vital signs. From wristbands to chest straps, these devices can be used with an app or on their own to track your heart health throughout the day.
The data collected from these devices can also be used to identify potential problems or develop strategies for better health outcomes.
"Wearables can be used to better assess and monitor cardiovascular fitness and progression, and can be a great way to provide motivation and set goals," says Tal Zivan, MD, cardiologist at Lankenau Heart Institute, part of Main Line Health. "And, if you have a history of high blood pressure or abnormal heart rhythm, such as atrial fibrillation, wearables can help monitor any changes so you can take action quickly and improve outcomes."
Wearable technology has become so popular that an increasing number of medical professionals are now recommending them to monitor and track heart health. Wearable devices make it easy to keep track of important health information without having to visit a doctor's office regularly — giving you peace of mind that you're taking care of your body.
"Some devices can automatically send data to your doctor's office, so they can monitor your health without you coming into the office," says Dr. Zivan.
Many wearables come with features like step counters and sleep trackers. These can provide invaluable insight into how active you are throughout the day, which can help you stay motivated. You can use the data to set goals and track your progress over time.
Benefits of using wearables for heart health monitoring
The use of wearables for heart health monitoring is one of the most effective and convenient ways to keep track of your heart rate and blood pressure. Not only does it provide near-instant feedback, but it also gives users insight into long-term trends in their condition. Furthermore, users can set achievable goals to stay active and reduce the chances of developing cardiovascular diseases later in life. Lastly, these devices provide peace of mind by alerting users if any unexpected changes occur in their heart rate or blood pressure readings from the comfort of their own home.
Types of wearable devices for heart health monitoring
Wearable devices provide near-instant feedback, insight into long-term trends and the ability to set achievable goals. Heart rate monitors are one of the most popular types of wearables for monitoring heart health.
These trackers measure your real-time heart rate from your wrist or chest. They're used as a tool for assessing cardiovascular fitness levels or even detecting irregularities in your heartbeat. Some come with an additional electrocardiogram (ECG) monitor, which records the electrical activity of the heart and is capable of detecting arrhythmias such as atrial fibrillation.
Blood pressure monitors are another type of device for tracking heart health. These wearables measure blood pressure levels from your arm or wrist and can be used to detect early signs of hypertension or other cardiovascular issues.
Some models also have additional features such as memory storage capacity for up to 90 readings, average readings over time and alerts when your results exceed preset parameters.
Activity trackers are ideal for those looking to stay active while monitoring their heart health. Many activity trackers come with a built-in step counter which typically tracks:
Total steps taken each day
Average pace
Distance traveled
Calories burned during activities
Sleep duration and quality
Smartwatches offer all the features mentioned above but also come with extra features like GPS tracking capabilities. This allows you to map out routes while running or cycling outdoors and use voice control so you can access information handsfree while on the go.
Smartwatches can also provide notifications about important events such as incoming calls or texts, so you don't have to constantly check your phone throughout the day.
How to choose a heart health monitoring wearable device
Ultimately, there's no one-size-fits all solution when it comes to choosing a wearable device for monitoring your heart health. But it's important to take stock of what features matter most to you before making a purchase.
"Consider factors like battery life, waterproof rating (if swimming is part of your routine exercise regimen) and accuracy level before investing in a particular model so that you get exactly what you need to best achieve your goals," says Dr. Zivan.
From there, research available devices and their features in detail – compare aspects between similar products, and don't forget to read customer reviews.
You should also consider consulting with your doctor before making a purchase. They can advise on particular medical conditions related to heart health, as well as suggest settings such as resting heart rate or exercise intensity levels. This will help ensure that whichever device you opt for fits all of your individual requirements perfectly.
The best wearable device for heart health monitoring
Overall, wearable technology provides an effective way to monitor and track heart health daily.
"It can allow you to take control of your own wellbeing while remaining informed about your body's condition at all times," says Dr. Zivan.
Whether you're looking for more detailed information about your heartbeat or just want an easy way to check up on yourself periodically throughout the day, wearable devices are a wonderful tool to use for monitoring heart health.
Next steps:
Make an appointment with Tal Zivan, MD
Learn more about heart and vascular care at Main Line Health
Could your young athlete be at risk of sudden cardiac arrest?