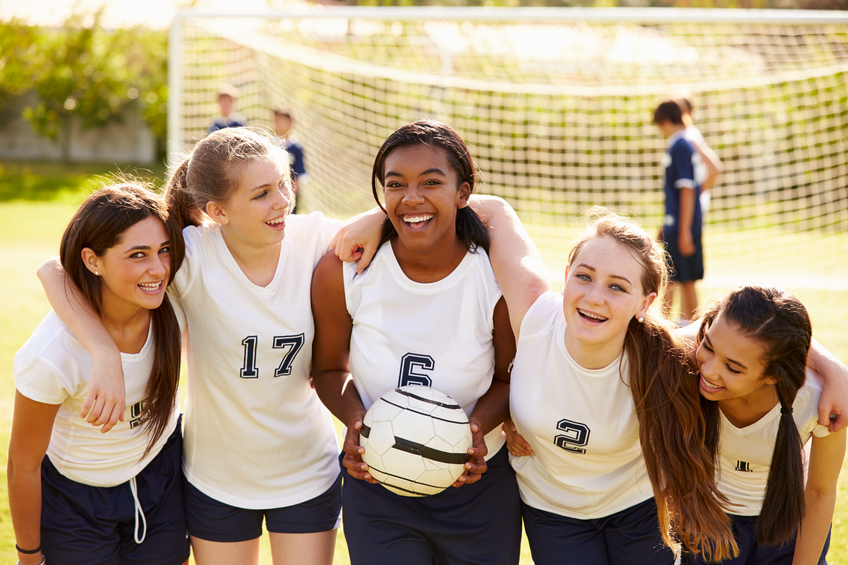 As summer winds down, it's time to start thinking about getting your student athlete back on the field. And while it's exciting to look forward to another year of cheering your team along on the sidelines, it's important to make sure your child is ready to make a safe return to the field.
This year, what can you do to help your child get back—and stay—in the game? Donna Merkel, physical therapist at Bryn Mawr Rehab Hospital, part of Main Line Health, offers her tips.
"Safety on and off the field is paramount," says Merkel. "Adhering to rules of the game, good sportsmanship, decreased aggressive play and wearing proper sports protective equipment is crucial to health and safety of young athletes. Ensuring that coaches, players and parents all understand the rules of the game and are committed to enforcing safety violations is best for everyone who participates in youth athletics—from athletes to coaches—and helps facilitate a positive experience for young athletes."
Familiarize yourself with concussion symptoms
Coaches, school administrators, and trainers are familiar with the symptoms of concussion. But, as a parent, are you? It's important to make sure you can recognize the telltale signs, too. If your child has fallen and hit their head, taken a hit to the head by a ball, bat or piece of sporting equipment, or had a collision with or without a hit to their head or with another player, look or listen for mentions of symptoms like:
Headache
Dizziness, motion sickness or balance issues
Vomiting
Excessive fatigue
Sleep disturbances
Vision issues, like blurry or double vision
Cognitive symptoms, like amnesia, difficulty paying attention or difficulty problem solving
Difficulty in school
A change in mood, like increased irritability, sadness, depression, anxiety or anger
Ringing in the ears
These are just a few of the many symptoms of a concussion, and any of these can indicate that your child has sustained a concussion. Within the first 24 hours, it's important for parents, coaches, and teachers to recognize if an athlete's symptoms are getting better, worse or remain unchanged. Increases in headache, vomiting, or changes in level of consciousness warrant a visit to the emergency room and subsequent examination. Additionally, neck pain and/or numbness and tingling in the arms and legs may indicate a spine injury and should be evaluated as soon as possible.
Don't rush a return to the game! Concussions often take longer to heal in youth athletes than they do in adults. However, injuries to the bones and ligaments—like sprains, strains, and fractures—heal faster in youth athletes.
Prevent overuse injuries
Enrolling in multiple extracurricular activities can wear on anyone, even young teens and adolescents who seem to have an endless amount of energy. But going from practice to practice and pushing the body to perform in multiple games, scrimmages, and activities every week can take its toll on young, growing bodies where bones are softer and weaker than muscle and ligaments. As children grow, their bones grow quicker than their muscles can stretch, which causes tension in the joints and can make young athletes susceptible to injuries in these areas.
In addition to limiting the number of teams your child participates in during one season and ensuring there is a least one day of rest each week, participating in a variety of sports which utilize different sets of muscles can be beneficial. Encouraging flexibility and strengthening within your child's work out may help reduce the risk of overuse injuries. Proper nutrition, hydration, and rest are other key components in keeping your young athlete safe and healthy.
Use the proper technique
Your child may have been playing their sport of choice for years, but even the most seasoned athletes benefit from an assessment of their technique. While it can improve their performance, it can also—most importantly— reduce injury.
A coach or athletic trainer can provide an assessment of your athlete's technique, and help them improve, if necessary.
Wear the right equipment
Some fashion is timeless—and that includes protective athletic equipment. Mouth guards, pads, and helmets help keep your child safe from injuries on the field.
"Getting your child fitted for a helmet, mouth guard, and the proper footwear at the beginning of each athletic season is important. Wearing clothing or equipment that is too big or too small can cause falls, discomfort, or injury," says Merkel.
While coaches, trainers, and other administrators are committed to ensuring your child wears the athletic gear that keeps them safe, it's still common for student athletes to shirk equipment because it lacks a certain 'cool' factor. Additionally, the same safety procedures and equipment employed during competition are often omitted during practices. Before the athletic season begins, talk to your child about the dangers of sports injuries and the important role this equipment plays.
Lastly, prepare your child for success by leading by example. Follow the rules of the sport by demonstrating good sportsmanship as an assistant coach or just as a supportive fan, and help encourage them to follow safe behaviors by creating a list to ensure their athletic bag is filled with everything they need to practice safe athletics, including asthma inhalers, extra socks, sneakers or cleats, clothing to layer if they are warm or cold, snacks and water. A safe athlete is a happy athlete!
At Bryn Mawr Rehab Hospital, we know sports injuries affect athletes of every age and ability. From sports physical therapy for the weekend warrior to rehabilitation for the pro athlete, our sports injury program strives to heal complex sports injuries and limit the likelihood of re-injury. Visit our website to learn more about our sports injury rehab program.