Most women sometimes feel "blue" or stressed. But if depression, anxiety or grief are taking over your life, professional treatment from the team at Women's Emotional Wellness Center (WEWC) can help you cope and heal.
Group psychotherapy is an important part of all WEWC programs. We asked WEWC director Leslie Lipson, LCSW, to tell us more about it.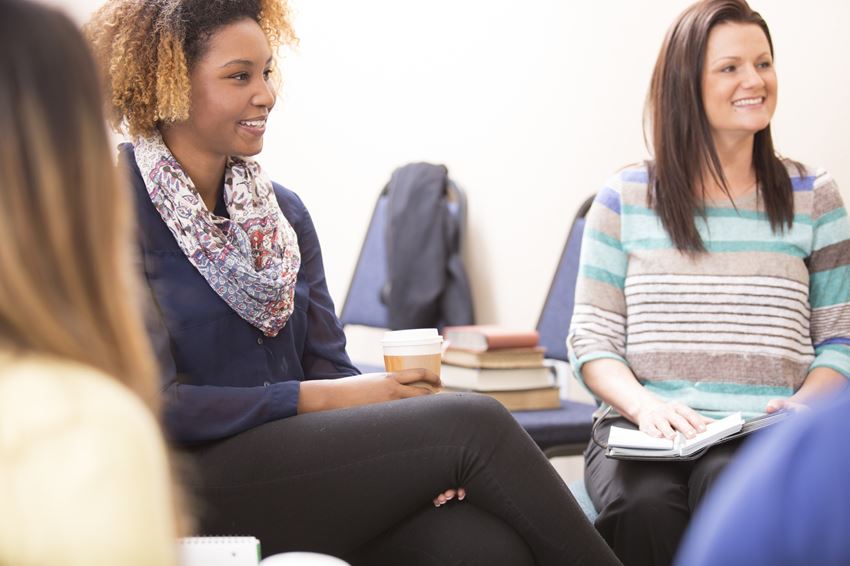 What is group psychotherapy?
Let me start by explaining that it's not what you see on TV, where someone is expected to stand up alone in front of a group and tell their life story while everyone watches them. Group psychotherapy brings together a small number of patients who share common experiences and goals to work with a therapist and each other.
Patients can share as much or as little as they want. We find that while many people are reluctant to try the group setting at first, most later tell us they're glad they did. The shift happens when people begin to trust the group and the process.
What should group participants expect?
Every person who comes to WEWC is evaluated by one of our clinicians to determine the level of care they need. This may include our women's partial hospitalization program with an average length of stay of 10-12 days. We also have women's intensive outpatient treatment programs or less intensive outpatient psychotherapy groups for women, such as Mindfulness & Meditation, After Baby Connections and more.
What kinds of topics are discussed?
In our outpatient groups, the therapist focuses on mindfulness-based topics—effective communication, asking for and accepting help, self-care and more. But they're ready to adjust the content of a session if something important gets raised.
How does group psychotherapy help?
Dealing with a personal struggle can be isolating, making us turn inward and away from others. A big part of the "magic" of group therapy is that it reminds us that we're not alone. Participants have the benefits of working with an expert therapist. And they also get the support and experiences of fellow group members. That's a powerful combination.
In our feedback surveys, women tell us how the group experience has made a difference for them:
"The topics always help me focus on things more clearly."
"It's helpful to see different strategies others use and experiences they have had." 
"I can see progress in the decrease of anxiety and increase in confidence."
As WEWC psychotherapist Christine Dehmey, LPC, has so perfectly put it: "The work of group therapy is an opportunity to repair within ourselves what has often been wounded in relationships, to renew our hope in humanity and find inner healing and wholeness so that we may extend the same concern and compassion to others in need. That is the beauty and gift of group therapy."
Next steps:
Make an appointment with Leslie Lipson, LCSW
Learn about Women's Emotional Wellness Center outpatient psychotherapy groups
How to improve emotional wellness and wellbeing