Carbohydrates provide our bodies with the most important energy source—glucose. Glucose is used by our brain, muscles and organs for the energy they need to function, day in and day out. When we try to do activities—such as math at school, play sports or complete work projects—and we have no energy in our bodies, we feel sluggish, dull and tired. This doesn't support us to work or play as effectively as we'd like.
The important part of eating our carbohydrates is to eat the right types. It's not that we want to cut them out entirely, it's that we need to pay attention to the amount and types of carbohydrates we're consuming. People often make the mistake of eating processed, high sugar types of carbohydrates.
Here are three key rules to remember when consuming carbohydrates:
Eat healthy types of carbohydrates. Fruits, vegetables, beans, lentils, whole grains, potatoes (not fried), corn and peas are all great choices for healthy carbohydrates.
Watch our portions. We're looking for those healthy choices to take up about ¼ of our plate at meals.
Always try to pair with a protein and/or healthy fat. For example, try an apple with nut butter instead of an apple by itself. Or, if you're having pasta for dinner, make sure there's some sort of protein with it, so that you don't over portion your pasta.
Looking for new recipes to help balance your carb intake? Try these delicious salad recipes for a carb-conscious meal: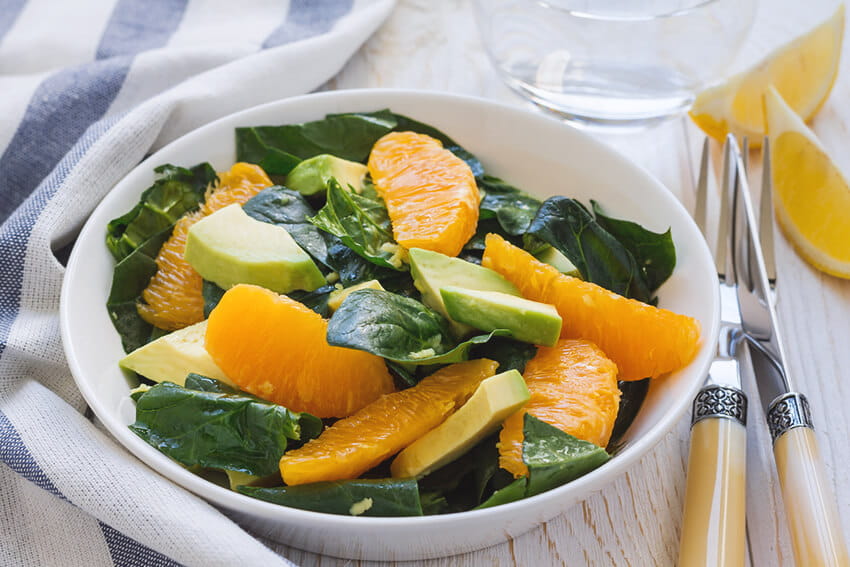 Cretan avocado and orange salad with lemon dressing
Ingredients:
2 large avocados, peeled and cubed
2 large oranges, peeled and cubed
6 tablespoons olive oil
2 tablespoons lemon juice
½ teaspoon cumin
½ teaspoon salt
Black pepper to taste
Instructions:
Make the dressing by mixing olive oil, lemon juice, cumin, salt and pepper in a small jar or bowl.
Gently combine avocado and orange cubes in bowl.
Pour dressing over the salad and gently blend, careful not to mash the avocado.
Serve as is or over a bed of lettuce.
Recipe makes four to six servings.
Kamut salad with arugula, raisins and pistachios
Ingredients:
2 cups kamut, cooked
2 cups arugula, chopped
¼ cup golden raisins
½ cup pistachios, shelled
¼ cup feta cheese, crumbled
3 scallions, chopped
1 tablespoon honey
2 tablespoons Dijon mustard
¼ cup cider vinegar
½ cup olive oil
Salt and pepper to taste
Instructions:
In a small bowl, combine honey and mustard until smooth. Add vinegar and whisk until blended. Slowly add oil, beating with a whisk.
In a large salad bowl, toss kamut, arugula, raisins, pistachios, feta cheese and scallions until just combined. Serve with honey mustard dressing.
Recipe makes four servings.
Next steps:
Learn more about Main Line Health's nutrition counseling and weight management services
Register for an upcoming cooking class
Explore more dietitian-approved recipes
Want more recipes and health-focused content? Follow us on Pinterest!