Ouch! Is there anything I can do about ingrown toenail pain other than waiting until the issue resolves on its own?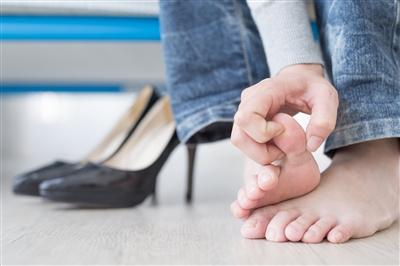 As you alluded to in your question, ingrown toenails can be very painful—particularly if you accidentally bump your toe or an uncomfortable shoe irritates the affected area. In most instances, ingrown toenails will resolve within a few days but—until then—there are steps you can take at home to help reduce pain, swelling and redness.
If you've just started noticing pain as a result of an ingrown toenail, try these at-home techniques:
Soak your feet in warm water and Epsom salt for 15–20 minutes, three to four times per day. This will help reduce tenderness.
Apply an antibiotic cream like Triple Antibiotic ointment to the affected area and cover completely with a bandage to prevent further infection.
Wear close-toed, well-fitting shoes that protect your feet.
If you're in pain, take a mild over-the-counter pain reliever like Advil or Tylenol.
These should help manage your pain, and your toenail should begin to grow out within a few days.
However, if your symptoms don't resolve soon or if you begin to notice signs that your ingrown toenail is worsening—like bleeding, pus or other discharge from the affected area—make an appointment with your doctor.
For many people, ingrown toenails won't require a doctor's visit. But if you have diabetes, foot sores or an infection, call your doctor before trying any at-home techniques. If necessary, they can perform a simple, outpatient procedure that numbs the toe and removes the ingrown portion of the toenail. This will prevent the infection from worsening or spreading to your bone.
These at-home techniques can help fix your ingrown toenail now, but there are some things you can do to prevent this from happening again in the future. No matter what you're doing, make sure you're wearing proper and protective footwear to prevent damage to your toe or toenail. And—this one is easy!—trim your toenails frequently.
Main Line Health serves patients at hospitals and health centers throughout the western suburbs of Philadelphia. To schedule an appointment with a specialist at Main Line Health, call 1.866.CALL.MLH (225.5654) or use our secure online appointment request form.