A step in the right direction with Lokomat therapy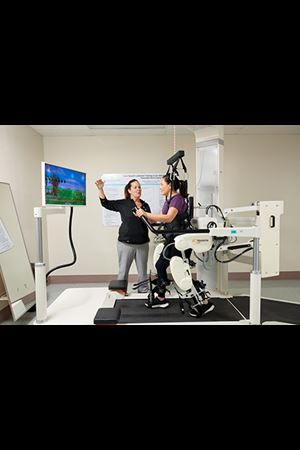 The Lokomat® is a robotic device that helps patients with walking impairments learn how to walk again. The device uses a customized suspension system and exoskeleton to provide support over a treadmill, as well as limb guidance. Bryn Mawr Rehab Hospital therapists attach the exoskeleton robotic legs to the patient's legs. Therapists are then able to control how fast patients walk, how much body weight they can support and how much help the robotic legs give patients to move their legs as they walk.
Bryn Mawr Rehab Hospital uses the Lokomat in both inpatient and outpatient settings to help patients who have spinal cord injuries, brain injuries, stroke, multiple sclerosis, Guillain-Barré syndrome and other neurologic conditions improve their strength, motor planning, coordination and sequencing during walking.
Bryn Mawr Rehab Hospital therapists use this technology early in the rehabilitation process—when recovery is quickest—and throughout patients' treatment, to retrain and fine tune movements. Through repetition and taking multiple "correct" steps, patients re-learn "normal" walking mechanics. This learning carries over to improvements in overground walking. Our therapists have had great success using Lokomat therapy to improve the quality, speed and accuracy of walking, as well as overall endurance.
Inpatients and outpatients can utilize the Lokomat as a complement to traditional physical therapy interventions throughout their course of care. Assessments are completed by a trained physical therapist to determine if the Lokomat is appropriate and indicated for each patient.