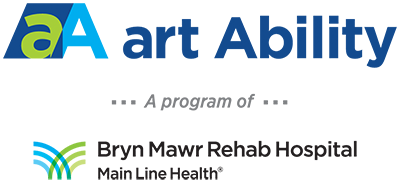 Art Ability at Bryn Mawr Rehab Hospital is a year-long program which serves as a showcase for, and celebration of, artists with disabilities. Through art, we hope to inspire patients to reach beyond their limitations, and to encourage people with disabilities to explore their own creativity.
Established in 1996, Art Ability includes the following major components: an annual international juried exhibition and sale of art and fine crafts produced by individuals with disabilities; community outreach and education opportunities including satellite exhibitions and interactive demo days; our permanent collection of artwork and the incorporation of artwork into the patient experience; and a corporate art acquisition program.
The program's goal is to foster a better appreciation of people with disabilities through the achievements and stories of our artists. As art enriches their lives, we hope their creativity, talent and exuberant spirit will enrich your life. Art Ability is dedicated to creating community awareness of people with disabilities, and encouraging people with disabilities to reach beyond their limitations and find fulfillment and inspiration through art.
Exhibition information
23rd annual exhibition and sale
November 4, 2018–January 27, 2019
Learn more about the 23rd Annual Art Ability Exhibition and Sale
Preview party information
Saturday, November 3, 2018 from 5:30–10:00 pm
Preview reception: 5:00–8:00 pm
Dinner and auction: 7:00–10:00 pm
More information and link to register coming soon.
Call for entries
Bryn Mawr Rehab Hospital's Art Ability program accepts artist entries for the annual exhibition and sale from mid-April to mid-July each year.
Sponsorship information
Art Ability provides an opportunity for businesses to meet their marketing and outreach goals while supporting the work of artists with disabilities.
2018–19 featured artist: Maureen Collins, Wilmington, Del.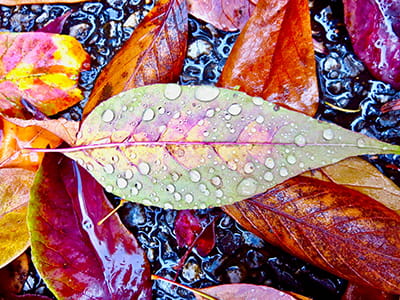 Autumn Rain
Medium: Photography
Creativity is a lifelong, core part of Collins artistic and soul language. Years ago, she was diagnosed with a life changing illness, Guillain-Barre Syndrome. This challenged her to find new ways and modalities of expression, as she learned, with deep gratitude, to regain motor skills and then to walk, again. Long periods of immobilization deepened her ability to observe people, objects and landscapes with newfound resonance. This expanded time helped Collins to absorb and express awareness's, taught her patience in allowing details of design to be revealed and developed. She is very grateful for the creative process in the unfurling of each day, for the ability to share its beauty and unique imprint on her life. Collins is currently focused on photography, but enjoys painting, collage, ceramics, mosaics, silver work and fabric design, with images from one medium often inspiring and flowing to another.
We welcome any artist interested in participating to contact us at artability@mlhs.org or call 484.596.5607 to provide your name and contact information for our mailing list.