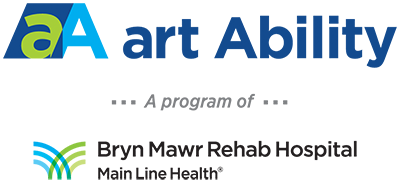 Art Ability at Bryn Mawr Rehab Hospital is a year-long program which serves as a showcase for, and celebration of, artists with disabilities. Through art, we hope to inspire patients to reach beyond their limitations, and to encourage people with disabilities to explore their own creativity.
Established in 1996, Art Ability includes the following major components: an annual international juried exhibition and sale of art and fine crafts produced by individuals with disabilities; community outreach and education opportunities including satellite exhibitions and interactive demo days; our permanent collection of artwork and the incorporation of artwork into the patient experience; and a corporate art acquisition program.
The program's goal is to foster a better appreciation of people with disabilities through the achievements and stories of our artists. As art enriches their lives, we hope their creativity, talent and exuberant spirit will enrich your life. Art Ability is dedicated to creating community awareness of people with disabilities, and encouraging people with disabilities to reach beyond their limitations and find fulfillment and inspiration through art.
Event information
23rd Annual Exhibition and Sale
November 4, 2018–January 27, 2019
Learn more about the 23rd Annual Art Ability Exhibition and Sale
Preview reception, dinner and auction
Saturday, November 3, 2018 from 5:30–10:00 pm
Call for entries
Art Ability is now accepting submissions for the 2018–19 Exhibition and Sale. Deadline for entries is Wednesday, July 18, 2018.
Visit our call for entries page for more information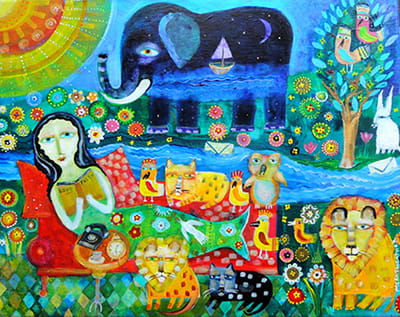 Faith & Love
Medium: Acrylic on canvas
Allison Merriweather of Houston, Texas was born in California to a family of carnival workers and performers. Merriweather had traveled most of the U.S. by the age of 14. Though interesting, childhood was often tumultuous for Merriweather, who found a sanctuary in the small California ranch owned by her grandparents. Her early experiences on the ranch manifest themselves in her paintings, which consistently center on the theme of love and respect for animals. Living with dyslexia and dyscalculia often turns everyday actions into a challenge for Merriweather, yet she believes her experiences have given her a unique advantage as an artist. In her words, "I think in pictures and not so much in words. When I go about my daily life, often feel like I am underwater. Numbers on a clock appear jumbled, simple instructions are often incomprehensible and maps are impossible. When I sit down to paint it is like coming up for air. I find peace and safety in art."
We welcome any artist interested in participating to contact us at artability@mlhs.org or call 484.596.5607 to provide your name and contact information for our mailing list.