At Home Tips for Joint Replacement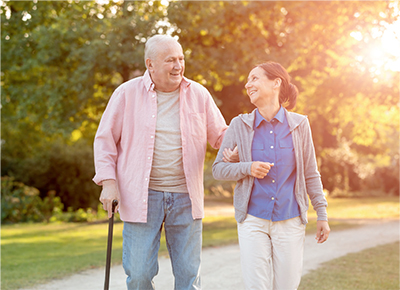 Follow restrictions or precautions your surgeon may have given to you. See your discharge instruction sheet and follow instructions regarding showering and dressing changes.
At home you should expect to mostly care for yourself, allowing family members and friends to handle caring for the home and driving duties. Surgeons will clear you to drive, usually after a few weeks when you are no longer taking prescription pain medication and are consistently moving around much better. 
Also keep in mind:
It is normal to use a walker for one to two weeks following surgery, transitioning to a cane as decided by your therapist or walking program. (Do as your surgeon directs.) Formal therapy, if required, can last for six to eight weeks depending on individual patient recovery.
Use a cane for longer than you think you need to! It will assist with stability and balance.
Swelling and bruising can last for longer than you think it should (several weeks).
Muscle tenderness and soreness for several months is normal. It will remind you that your joint was replaced as you recover.
Much of your physical function typically returns in the first month. Therefore, focusing on recovery in that first month is important! For an optimal recovery, it is important to follow both surgeon and therapy instructions.