Family support for addiction recovery strengthens the healing process for all
To provide guidance and understanding to families of people who are in treatment and recovery at Mirmont Treatment Center in Media, Pennsylvania, just outside of Philadelphia—we offer free family support for addiction recovery programming through on-site educational services.
I thought that if my husband received help, that everything would be fine. Mirmont's Family and Friends Program helped me see that we all need to be part of the recovery process. 
Using our resources at the onset of your loved one's treatment will help you navigate the inpatient treatment process and continue to support you throughout your loved one's journey towards meaningful recovery.
We meet every Wednesday evening from 6:30 - 8:00 pm virtually. This group is open to any and all family members who love someone who is struggling with substance use disorders. We ask that you attend a minimum of one session in this five-part series before visiting your loved one at Mirmont. This program includes: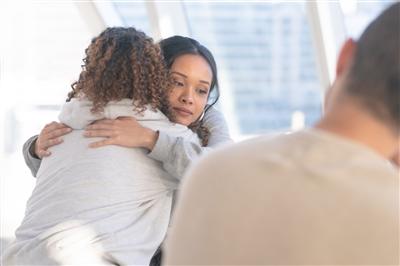 We recognize the challenges and struggles a family has experienced prior to inpatient admission: broken trust, incredible confusion, and overwhelming stress. Addiction is a family disease—it affects everyone, not just the person dealing with addiction.
While we are treating your loved one at the inpatient level, we encourage you to engage with family support for addiction recovery programming. Involvement in the treatment process not only strengthens the patient recovery experience, it helps initiate the healing process for the family.