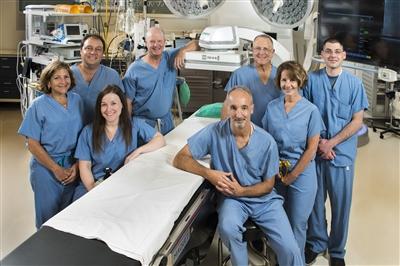 Robert Maloney had a leaky heart valve, known as mitral valve regurgitation. Affecting an estimated four million people in the United States, this common disorder can lead to declining heart function if left untreated. Maloney was told he needed surgery to fix it. Having previously undergone bypass surgery, he and his doctor sought a less invasive procedure this time.
"My doctor recommended I see Dr. Gray and Dr. Goldman at Lankenau Medical Center," said Maloney, 79, a retired Philadelphia police officer now living in Dover, Delaware. "I had never met them before, but my doctor said they were very good."
Maloney headed 78 miles north to Lankenau, where he met with William Gray, MD, system chief of the division of cardiovascular disease at Lankenau Heart Institute, and Scott Goldman, MD, director of the structural heart program at Lankenau Heart Institute. Both physicians are also clinical professors at the Lankenau Institute for Medical Research (LIMR), part of Main Line Health.
After their evaluations, the doctors determined Maloney was too high risk for conventional mitral valve surgery. But there was another option. Drs. Gray and Goldman told Maloney about a new research study that used a transcatheter approach to replace the mitral valve. The treatment was in an investigational stage, but Maloney opted to participate.
He was scheduled for further advanced cardiac imaging studies, which were performed by Sandra Abramson, MD, director of cardiovascular imaging at Lankenau Medical Center. With the proper imaging, his case was submitted to the clinical trial screening committee where it was determined he was a good candidate for the device and could be included in the clinical trial.
Maloney had his mitral valve replaced using a transcatheter approach as part of the APOLLO clinical trial. In fact, he was the first patient in the Philadelphia region to enroll in the trial.
During this delicate procedure, Dr. Goldman made the incision to access the heart while Dr. Gray threaded the heart valve. Under the cardiac imaging direction of Dr. Abramson, the valve was placed and expanded within the mitral valve while his heart was beating. This helped to restore normal blood flow through his heart and to the rest of his body.
Today, Maloney says he is feeling great and has had no side effects or pain. "If you're told you need a procedure, especially surgery, talk with your doctor about what's available, and know all your options," he said. "Someone has to be first, but you need to have faith in your doctors."
Lankenau Medical Center was one of only 60 sites worldwide to participate in the APOLLO trial, further fulfilling its commitment to provide the Philadelphia region with the most advanced heart therapies available. "It's exciting to have the prospect of new technology to arm physicians with when treating mitral valve regurgitation," said Dr. Gray, who also serves as co-investigator of the trial.
For more than 30 years, Lankenau has been a major referral center for patients with structural heart and valve disease. Structural heart disease (SHD) is defined as a defect or abnormality of the heart not involving the coronary arteries.
Expanding access to treatment options for patients
Clinical trials, which are administered by LIMR's Center for Clinical Cardiology, are one of the critical treatment methods to which Main Line Health physicians have access. Currently LIMR offers numerous cardiac clinical trials, most of which are studying the safety and effectiveness of devices and treatments for SHD.
Since the 1970s, Lankenau has been leading and participating in cardiac clinical research. "The clinical trials that have led to the approval of almost all of the anti-arrhythmic drugs and devices being prescribed and implanted by physicians today were either led by Lankenau, or we actively recruited patients and were part of their seminal publication," said LIMR professor Peter Kowey, MD, chairman emeritus of cardiology at Lankenau Heart Institute.
Conducting clinical research in SHD provides patients with access to the most up-to-date devices and treatment strategies, noted Dr. Gray who has led several clinical studies leading to FDA approval for new interventional cardiac and peripheral devices. "For some heart patients, research trials can offer an alternative solution to traditional treatments and in most cases, the use of a minimally invasive approach," he said.
"Patients across Main Line Health are receptive to clinical trial participation," said Dr. Goldman. "They know clinical trials offer access to devices and/or procedures that otherwise wouldn't be available to them. In some cases, there literally are no other alternatives to get the newest devices."
Dr. Gray added that, in many instances, Lankenau is the only site in the region where some trials are being conducted, which is why many patients travel great distances to participate. Moreover, Lankenau is the leading site for two national trials under the FDA's novel Early Feasibility Studies (EFS) program, and is participating in a third EFS trial.
EFS provides a way for innovators to work directly with trial sponsors, FDA review teams and clinicians to increase the efficiency of cardiac device development. The EFS program typically involves only a small number of trial centers at any given time—three to five nationally—so the fact that Lankenau is currently involved in three of them speaks highly to the clinical research team's impressive track record.
Additional benefits of clinical research
While providing the most advanced care possible to patients will always be the number one priority, offering clinical trials has other benefits, too. "It builds our reputation, which helps facilitate the recruitment of top-notch physicians and fellows," said Dr. Kowey. "And it enables us to publish articles, which enhances our leadership prowess and recognition in the academic realm."
Dr. Goldman adds, "Research programs also attract new patients to an institution, by being able to offer new technology that isn't available elsewhere."
When asked about the benefit to donors, Dr. Kowey said, "As a direct result of your philanthropy, you will see a significant impact on human life that can be both immediate and long-lasting."